Deck-Building Battles with Warmachine: High Command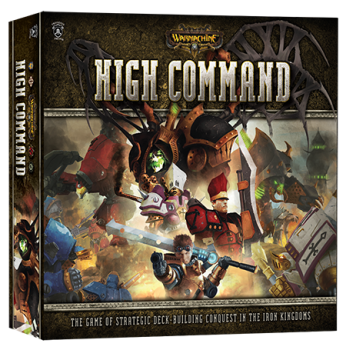 For me, a good game is really a window into another world. It's like a miniature story that is told with a set of pre-defined rules. The war games I play are rarely just games, like tic-tac-toe or chess, but instead a single battle in a larger war, which in turn is part of the story of the rise and fall of nations and the struggles of the people within them.
It was this perspective on gaming that first drew me to Privateer Press's Warmachine line of miniature games. Though I loved the physical look of the figures, the fact is that I'm not an artist or a visually-compelled person as a rule, so it was really the setting that drew me in, the possibility to, in some small part, take part in the stories set in this world. And the giant warjacks didn't hurt.
In fact, the first article I wrote for Black Gate was a review of Privateer Press's Iron Kingdom roleplaying supplements, exploring their magically infused steampunk-style world of giant mechanical behemoths. Soon after, though, my involvement in Warmachine died off. I got married, became a father, and the disposable income to buy metal miniatures and disposable time to sit painting them went by the wayside (and there was a vast increase in anxiety, as little two-year-old fingers would inevitably seek to play with "Daddy's dolls," as they became known in my house).
Fast forward to the present, and it's as if Privateer Press has found a solution to getting me back involved in one of my favorite gaming worlds. In addition to a whole new Iron Kingdoms line of RPG supplements (Amazon, Privateer Press) and digital fiction set in the Iron Kingdoms (Amazon), they have released a new deck-building game, Warmachine High Command (Amazon).