Blogging Marvel's Master of Kung Fu, Part Eight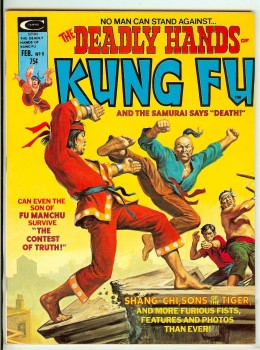 Deadly Hands of Kung Fu #9 featured a Doug Moench-Mike Vosburg story whose sole purpose was to reinforce (in the fashion of the hit television series, Kung Fu) that martial arts is about discipline and control and not violence. Of course, making this point provides ample opportunity to portray martial arts violence since conflict is inevitable within the confines of action-adventure storytelling.
The story gets underway when Shang-Chi stops a mugger in the park and finds himself challenged by Johnny Chen, the local martial arts champion whose arrogance and insecurities demand he publicly demonstrate his superiority to Shang-Chi. The fact that Mike Vosburg draws Chen to strongly resemble Bruce Lee (who could exhibit an arrogant side both and on and off screen) only adds another level to the story.
The real key here is the young Asian-American boy who also witnessed Shang-Chi's heroism and whose hero worship of him leads to unhealthy projection and deception. The dangers of idolizing those we admire is the second plot strand that points back to Bruce Lee in this story. Given that this was another of Doug Moench's scripts concerned with the non-violent philosophy of martial arts being ignored amidst the martial arts craze sweeping the West, his decision to paint the most recognizable face of martial arts as flawed and highlight the shortcomings of fandom was particularly daring.