Birthday Reviews: Daniel F. Galouye's "Sitting Duck"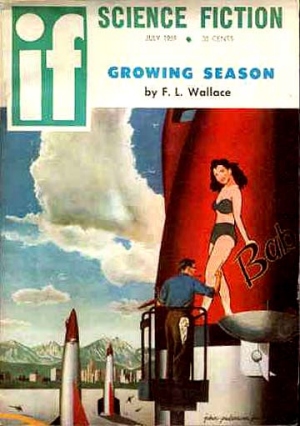 Daniel F. Galouye was born on February 11, 1920 and died on September 7, 1976. His debut novel Dark Universe was nominated for the Hugo Award in 1962. In 2007, Galouye was recognized with the Cordwainer Smith Rediscovery Award.
Galouye's stories have been collected in The Last Leap and Other Stories of the Super-Mind and Project Barrier. At least five collections of his works have been published in German translation over the years. Galouye published a total of five novels during his career, and numerous short stories beginning in 1952 and ending in 1970. His novel Simulacron-3 was adapted into the film The Thirteenth Floor in 1999. He also published under the pseudonym Louis G. Daniels.
"Sitting Duck" was published in the July 1959 issue of If, edited by Horace L. Gold. It was reprinted in the 1965 anthology The 6 Fingers of Time and Other Stories and a second time in Things from Outer Space, edited by Hank Davis, in 2016.
Ray Kirkland is a reporter in a world where something strange is happening, although nobody knows what it is. It impacts Kirkland directly when his wife suggests they take a look at a house that has suddenly appeared on a plot of land they were considering buying. Something about the house (4 kitchen, , 1½ bedrooms) seems off to him, but when he tries to investigate his editor suggests it is just a marketing ploy and tries to turn his attention another way.
Coincident to all this, Kirkland's father-in-law is preparing for duck hunting season by building decoys and setting up duck blinds. The juxtaposition of the two threads allows the reader to see that the strange occurrences Kirkland is investigating are simply decoys created by an alien race.