Who You Gonna Play? – Ghostbusters: The Board Game on Kickstarter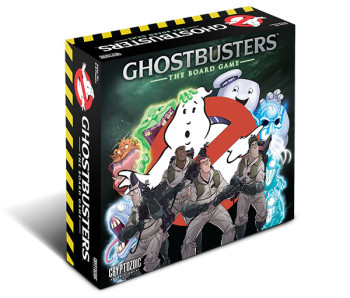 One of the earliest films that I have a distinct memory of anticipating is the original Ghostbusters. I would have been 8 years old, but I remember the commercials for it, a mix of humor and horror that I eagerly wanted to dive into. I wasn't really allowed to watch scary movies, but this, this was one that I'd be allowed to see. In the theater!
Over the following years I watched the cartoon series (both the bizarre Filmation Ghostbusters cartoon series, which had no connection with the film continuity at all, and the later The Real Ghostbusters, which most definitely did) and of course the sequel, Ghostbusters 2. Though I never felt that any of these quite captured the greatness of the original film, over the years I came to realize that's what tends to happen with many of the things we loved in our childhood. We want them to never change, but they do.
While I haven't maintained a strong Ghostbusters fanaticism over the recent years, I've never fully lost it. There's usually at least one Ghostbuster walking the halls of GenCon, even after all of these years, and seeing that jumpsuit always makes me smile. Every time I'm in our local comic book store, I notice that there are ongoing adventures in the comic book realm, including a recent cross-over with the Teenage Mutant Ninja Turtles. The recent announcement of an all-female reboot of the franchise has caused some turmoil, to be sure, but it guarantees that there is interest. For my part, I tried to argue for a different direction in the new series, still largely female but no reboot, but I guess they didn't take me up on it. And for Christmas, I did get this LEGO Ecto-1 kit from my mother. (Last year she bought me the Back to the Future DeLorean LEGO kit, so this is apparently becoming our thing.)
So… okay, I guess that I'm still something of a fanatic.
Which brings me to the news of the day: Cryptozoic Entertainment has started a Kickstarter for their new Ghostbusters: The Board Game. I was able to ask some questions of the Cryptozoic lead board game designer, Matt Hyra, about the game.