Blogging Sax Rohmer's President Fu Manchu, Part Four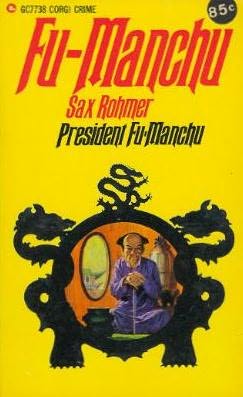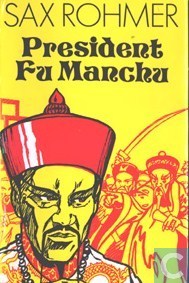 Sax Rohmer's The Invisible President was originally serialized in Collier's from February 29 to May 16, 1936. It was published in book form later that year by Cassell in the UK and Doubleday in the US under the title President Fu Manchu. The novel is the first in the series to fictionalize real events with characters based on familiar figures in the US in the 1930s, such as Huey Long and Father Charles Coughlin. More than one critic has noted the story may have influenced the classic Cold War conspiracy thriller The Manchurian Candidate.
The key to tracking down Fu Manchu comes from the most unlikely of sources. It is Robbie Adair, Moya's four-year old son, who mentions to Mark Hepburn about the mad man who lives at the Stratton Building, the high-rise across the street from Robbie's apartment, who makes sculptures of a bust and hurls them down to the street below. Robbie also mentions "Yellow Uncle" who is kind to him and gave him his own auto for his birthday. Moya dismissed the stories as a little boy's imagination, but Hepburn realizes the auto is in fact a toy car and "Yellow Uncle" is very real. The mad man Robbie sees is Professor Morgenstahl, a brilliant German scientist believed dead, who is now a slave to the Si-Fan and installed at the Stratton Building. During his free hours each day, he sculpts a bust of Fu Manchu and hurls it to the pavement below in impotent rage.