Birthday Reviews: Chris Roberson's "Death on the Crosstime Express"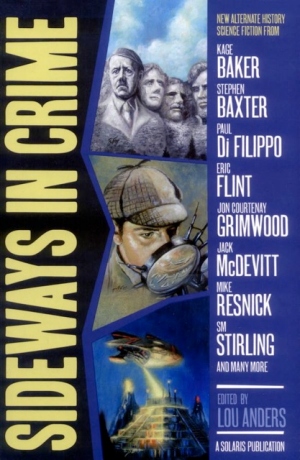 Chris Roberson was born on August 25, 1970.
Roberson has won the Sidewise Award for Alternate History for his short story "O One" and his novel The Dragon's Nine Sons and has been nominated for it three additional times. He was a two-time nominee for the John W. Campbell Award for Best New Writer and a four time nominee for the World Fantasy Award.
Roberson's comic series iZombie has been turned into a television series which will start its fifth season next year. He has also written the Serenity comic series No Power in the Verse and the Fables series Cinderella: From Fabletown with Love. Along with his wife, Roberson runs MonkeyBrain Books.
Roberson published "Death on the Crosstime Express" in Sideways in Crime, edited by Lou Anders in 2008. The story is one of many works by Roberson that take place in his Myriad universes, but it has not been reprinted.
"Death on the Crosstime Express" is a multiple reality story taking place on an airship. At its core, it is a murder mystery in which the ship's navigator, who is essential for guiding the craft through the different levels of reality, is brutally murdered. The murder plot and solution, however, take a backseat to Roberson setting up the world for the purposes of the story.
The beginning introduces an enormous cast of characters, each one from a different universe, which allows Roberson to also talk about how those worlds differ from our own and to show the vastness of the realms through which the Crosstime Express can travel. He also explains a little of the way the Myriad works as well as the functioning of the airship. There are enough characters introduced at this point that they are difficult to keep straight, especially since so few are given names, but they provide a large number of potential suspects once the navigator is murdered.