Now Streaming: The Adventures of Brisco County, Jr.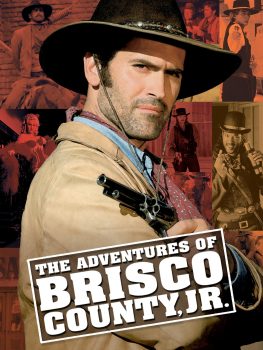 A friend of mine has often joked that I am his go-to source for television series which were cancelled during their first season. I believe that the series I recommended to him that cemented my reputation was The Adventures of Brisco County, Jr., which ran on FOX for one season in 1993 and starred Bruce Campbell in the title role. His support staff included Julius Carry as Lord Bowler, Christian Clemenson as Socrates Poole, and recurring characters Professor Albert Wickwire (John Astin), Dixie Cousins (Kelly Rutherford), Pete Hutter (John Pyper-Ferguson), John Bly (Billy Drago), and Whip Morgan (Jeff Phillips).
In my article on The Middleman, I commented that it could most properly be compared to a tongue-in-cheek version of Men in Black. If I were to make a similar comparison for The Adventures of Brisco County, Jr., I'd compare it to the 1965 television series The Wild Wild West (the film version of which happened to star Will Smith, who was also in Men in Black).
The titular character is hired by a bunch of robber barons to track down the members of John Bly's gang who ambushed and killed Brisco's father and, in so doing, damaged the robber barons' hold on the commerce in the American West in the 1890s.  The barons' liaison with Brisco is Socrates Poole, an effete businessman who strikes up a friendship with Brisco, but is apparently as far removed as possible from the bounty hunter. Early on, Brisco finds a rival, later partner, in the form of Lord Bowler, another bounty hunter who has some surprises of his own.