Rich Horton Reviews Fox and Phoenix by Beth Bernobich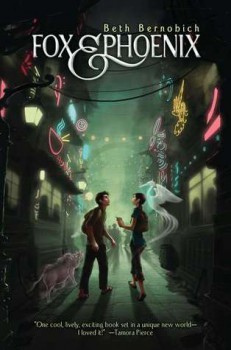 Fox and Phoenix
Beth Bernobich
Viking ( $17.99, hc, 368 pages, October 2011)
Reviewed by Rich Horton
A few years ago Beth Bernobich published a delightful YA novelette called "Pig, Crane, Fox: Three Hearts Unfolding" in Steve Berman's anthology Magic in the Mirrorstone. Now her first YA novel has appeared, a sequel to the earlier story. It's also very nice, another benchmark in an evolving career that may become something quite special if Bernobich keeps doing work as interesting as she has done to date.
In "Pig, Crane, Fox" the main protagonist, Kai, is a boy working in his Mother's magic shop. He (as with most people in his milieu) has a spirit companion, the pig Chen. He and his friends regard themselves as pretty streetwise – and maybe they are, to some extent. Then they get involved with the Princess Lian, as her father, ruler of their city-state, establishes a contest for her hand. Kai is mature enough to ask instead for Lian to be granted her real wish – to study at the major university in the Phoenix Empire.
The setting is explicitly Chinese-derived, though not in any recognizable China. It's quite fantastical in nature – magic is everywhere – but with a distinctly Science-Fictional attitude informing things, such as the way magic is used. That setting, that mix of SF and Fantasy (a characteristic of much of Bernobich's work, in different ways) was a big part of the attraction of the story, but so were the well-realized characters.