Thomas M. MacKay Reviews The Shadow Queen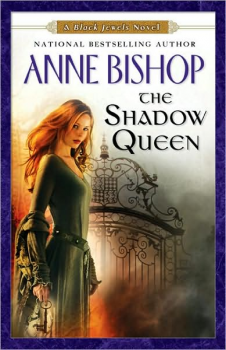 The Shadow Queen
Anne Bishop
Roc (368 pp, $7.99, March 2010 mmp (originally March 2009))
Reviewed by Thomas M. MacKay
Anne Bishop burst onto the fantasy scene in 2001, releasing 12 fantasy novels in the last 8 years. An accomplished epic story teller, her work features magic in strange and edgy forms, where power, sexuality and love become hauntingly bound with darker impulses. The critically acclaimed Black Jewels trilogy introduced a world of a power-stratified society where those with the most power seem to be the least stable, living on the knife-edge of control and constantly at risk of being overtaken by storms of rage and desire – and other more sanguinary passions.
The Shadow Queen marks the seventh novel in this series, and explores the issues faced by one of the lesser lands attempting to recover after the war of power and dominion between the Blood was conclusively ended by the magic of the Witch of Ebon, Askavi.
Theran Grayhaven is the last of his line, a Blood family that had ruled the land of Dena Nehele for generations until it was taken over by the corrupt Blood when Theran was just a small child. Raised in a rebel mountain camp, Theran only knows war, and finds himself at a loss when peace suddenly arrives. His war-torn country is on the edge of collapse, its people in chaos, the magic-less landen still chafing at the rule of the powerful Blood, and few of the Blood remaining in Dena Nehele to aid in the rebuilding. Theran knows he needs a Queen of the Blood, someone who follows the old ways, who believes in the responsibility of stewardship. He needs a Queen with the strength to deal with the struggle of rebuilding, the grace to evoke loyalty in a conflicted people, and the power to claim authority over the Blood. He only knows one place to ask for help in finding such a Queen, at the Keep at Black Mountain, where the most powerful and unpredictable Blood hold court.