Rogue Blades Presents: Recalling a Fantasy Hero — Hanse Shadowspawn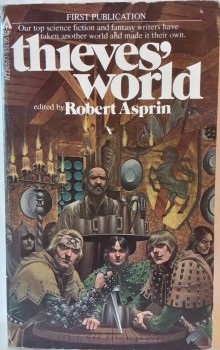 As I've written before, my introduction to Sword and Sorcery literature came not through the more traditional routes of Robert E. Howard, Fritz Leiber, Michael Moorcock, etc. I first delved into Sword and Sorcery almost by accident about 1979 when at the age of nine I picked up a collection of fantasy short stories titled Thieves' World, the first in what eventually would become a long series of anthologies and novels and even gaming-related material.
At that point in my young life I had discovered Tolkien, and I had read what was then the first of Terry Brooks' Shannara books, but that was about the extent of my fantasy readings outside of comic books.
Thieves' World opened my eyes to a much larger and somewhat darker potential for fantasy literature, one I had yet to envision at that time.
Yet my love for the series, and for Sword and Sorcery, would not come immediately upon opening the book. The introduction by series editor Robert Asprin proved interesting enough as did the first short story, "Sentences of Death" by John Brunner, and the following tales were also worthy reads.
Yet when I got to the fourth tale, "Shadowspawn" by Andrew Offutt, something … changed. Something opened within me.
This tale featured one Hanse Shadowspawn, a young, cocky thief who often wore bright garb by the day but dark garb by the night. And he also wore a dozen or so daggers about his body. Hanse showed himself to be a cocky, swaggering sort of fellow, though he also had a soft spot for those he loved.
Over the next forty or so years throughout multiple short stories and a few novels, Hanse Shadowspawn still remains one of my favorite fantasy characters. Despite his upbringing on the roughest streets of the city of Sanctuary, he became a friend to royalty, rescued a near-god from a fate worse than death, found love, grew old and learned his parentage consisted of … but that would be telling. I'll try to leave more than a little mystery. Let's just say, Hanse proved no mere thief, and he was the best at what he did for a reason, for several reasons.