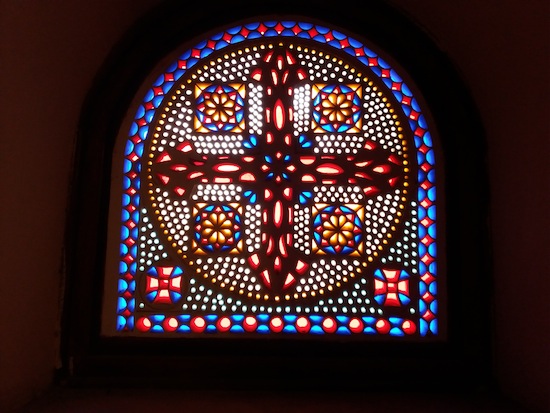 A stained glass window using small bits of colored glass in a plaster
framework. Mosques and private houses also use this style of
decoration, although the mosques don't include crosses, of course
While Egypt's ancient civilization is the main draw for visiting the country, I find its medieval and modern history equally fascinating. Cairo is full of historic monuments. Minarets built a thousand years ago rise above the honking traffic, old houses from the Ottoman period are nestled in quiet back alleys, and a medieval citadel looks out over the city.
Many of Cairo's most interesting historic sites are Christian. Early in Christian history, Egypt started a distinct tradition of worship that developed into what is now known as Coptic Christianity. The Coptic church traces its origins back to 50 AD, when Saint Mark visited the country and established the Church of Alexandria. The word "Copt" comes from the ancient Greek word for Egypt, "Aigyptos."