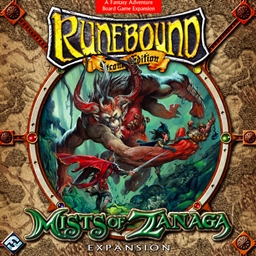 I previously wrote about Runebound (2nd Edition), an RPG-like board game from Fantasy Flight. You might want to give it a quick read to get the basics down. I also did a post on The Sands of Al-Kalim expansion. Next up is a look at another of the big box expansions: The Mists of Zanaga.
Mists is another of the 'big box' expansions for Runebound. It comes with a board that you lay over most of the original Runebound board, completely changing the terrain.
Runebound is a traditional Middle-Earth type of fantasy world, while The Sands of Al-Kalim was a desert setting. Mists of Zanaga is the classic jungle environment, with lost stone cities and desolate outposts in the wild.
The idea is that some powerful entity known as Tarakhe sleeps deep beneath Zangara. It is a primal force that corrupts the world and drove the lizardmen to abandon their empire and descend into barbarism.
---