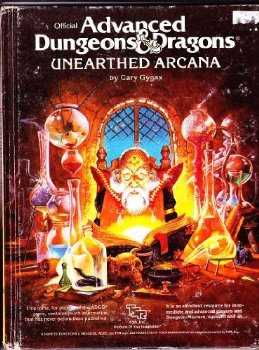 So there we stood, surrounded. Demons in all directions, converging fast – and we're not talking garden variety patsies. Even for our major league party, the future looked bleak, bloody, and painful. On the plus side, we had our pizza in place, our dice at the ready. Beers and sodas hovered with popped caps and bated breath, anticipating action.
"Initiative!" cried the DM.
We each rolled. One of the demons, which just happened to moonlight as a spell-caster, moved first — and what did that pipsqueak no-good blackguard cheat of a demon cast our way?
Chain Lightning.
At fifteenth level.
Two hours later, with the pizza cold and stiff, the beers stale and the sodas flat, we finally finished adjudicating the effects of that single spell. We were in shock, and grumbling to beat the band. The DM, equally weary and perplexed, said, "Okay. Still first round. Who gets to take the next action?"
That I no longer recall, but this I know: we won the battle, and the demons lost. So did Chain Lightning. We made a solemn pledge that very day to never again allow that spell to eclipse the glory of our triumphant campaigning. Banned it was, all but ripped from the pages of the rulebook. And good riddance, too.
---