Tommy Guns, Prohibition, and…. Magic?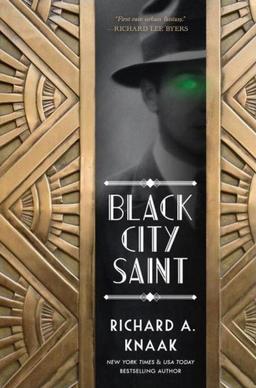 Epic fantasy has been and I think always will be a mainstay of the fantasy genre as a whole and it is for this which I am of course well-known thanks not only to my Dragonrealm saga, but also such shared worlds as Dragonlance, World of Warcraft, Pathfinder, Iron Kingdoms, and more. I certainly enjoy epic fantasy as well, naturally having read among so many others the Lord of the Rings. Still, as with most readers, I also enjoy a variety of other offerings in fantasy, especially urban fantasy… which leads me to Black City Saint.
I have delved a bit into urban fantasy in the past, most notably Frostwing. Still, although I utilized Chicago as the background in that novel and two others, never before Black City Saint has the city, its history, and the characters been so entwined. It's far simpler to merely set a story in a modern setting that everyone knows and put in those touches that remind the reader where they are. More complex — and at the same time more exciting for me as the author — is to turn to a time period that, although not all that long ago, remains sharply different from that in which we live. Having grown up around the Chicago area, I had heard many of the names, many of the stories, concerning the prohibition era. Always a fan of the mystery genre, I assumed that I might use those stories in that way, but the notion of Nick Medea entered and changed everything.
I love the mixing of genres. Some of my favorite novels include mysteries with magic. It was therefore not at all surprising to me that I took a few steps farther than I had with my previous excursions into urban fantasy and introduced into Roaring Twenties Chicago possibly the least likely protagonist — St. George of dragon fame.
And, yes, the dragon came with him.
Adding a character such as St. George into the mix meant making certain that the world he lived in had even more depth. With his lengthy life, that meant research had to go back beyond the Roaring 20s, which in turn brought into the story new elements that not only helped cement character development, but added to the depth of the city itself. The actual history of Chicago became a character of its own, molding the story and the protagonists in the process.