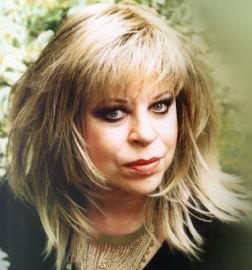 There is a saying that you should never meet your heroes. The golden god may have feet of clay, and all that. I don't agree.
Now, I adore my wife. Let me make that plain up front, so there are no misunderstandings. But there is another woman in my life – my goddess of writing, Tanith Lee.
Tanith Lee is the reason I'm a writer today. She inspired me in a way that nothing and no one else did or could. I've always hoped that if I worked hard enough and long enough I might one day be a tenth as good a writer as she was. I don't know that I am, but I'm working on it. Drake is nothing like a Tanith Lee book, but I like to think that at the heart of it there is a little of her voice.
Tanith passed away last year and it my greatest professional regret that I never got to meet her and just tell her "thank you." But then how many people get to meet their deity?
This Easter weekend though I did get to meet her husband, John Kaiine.
John is an absolutely lovely man and a gentleman in the truest sense of the word. We were at EasterCon in Manchester, UK, and John was there to speak on a panel held in tribute to Tanith. Hosted by Storm Constantine, the panel consisted of John and the Night's Nieces – Kari Sperring, Sarah Singleton, Freda Warrington and Liz Williams, all writers who Tanith had inspired and mentored. John and the others spoke beautifully about Tanith and her work. There wasn't a dry eye in the room by the end of the hour.