Judgment Night: Space Opera and More From One of the Female Pioneers of the Genre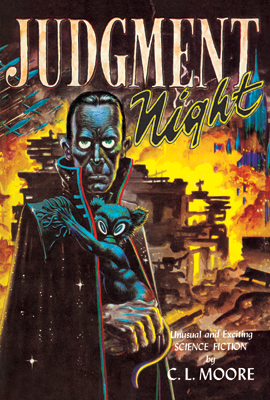 Famed with her husband Henry Kuttner for turning out superlatively compelling and complex stories for the pulps, both jointly and singly, Catherine Moore began writing in 1933.
But she had to wait nearly twenty years for any of her fine tales to achieve single-author book form, and the volume under discussion today is the long-awaited result. It contains five stories — one actually a short novel — from the pages of John W. Campbell's Golden Age and Silver Age  Astounding.
The title piece is the novel, from 1943. A primal space opera, it concerns the star empire of the Lyonese, whose central world is Ericon, where ancient patron gods live, remote from day-to-day affairs of the empire.
But now the vast holdings of the Lyonese are crumbling under the assault of a younger race, the H'vani. The Emperor's heir is Juille, a daughter, and she's determined her dynasty will continue. She wages a one-woman campaign against the wishes of her doddering father to save all that her ancestors built.
But she doesn't count on falling in love with the H'vani ruler — or the machinations of Ericon's living deities.