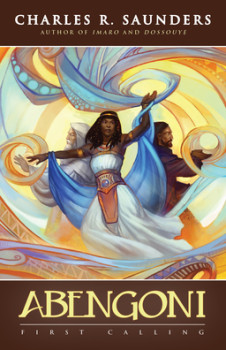 After DAW killed the fourth Imaro novel, for nearly twenty years Charles R. Saunders's published swords & sorcery output was limited to only a few short stories. Since 2006, starting with the reprinting of Imaro, new books from him have been appearing at a furious rate. In addition to new novels starring his established S&S characters, Imaro and Dossouye, he introduced a new pulp hero, Damballa.
Abengoni: First Calling (A:FC) is the first book in Charles R. Saunders's foray into epic fantasy. From one of the masters of the 1970s golden age of swords & sorcery comes a project in the works for the past decade. And thanks to Milton Davis's MVmedia, it's seeing the light of day.
Full disclosure here: Milton Davis asked me to preview this book earlier this year and give him a blurb if I felt like it. Well, I jumped at the chance to read a new Charles Saunders book. That's like asking if I want to hear some unreleased Led Zeppelin tracks before they hit the general public. There was no way I was going to say no. And before I go any further, I love the book and gave Milton this blurb I totally stand by:
"In Abengoni: First Calling, Charles Saunders writes the sort of epic fantasy I want to read. He tells the tale, with its large cast of sharply drawn characters and complex history, in a wonderfully spare and fast-paced style that doesn't waste time getting to where it's going. I can't wait for the next book."
When Saunders first created Imaro, his literary inspiration was Robert E. Howard. In this book, the influence of J.R.R. Tolkien is at work. He has specifically cited the two authors as his main influences. But in both cases, what he wrote was inspired by larger issues as well.
---