Djinn, Disguises, and Dangerous Desert Quests: The Sandsea Trilogy by Chelsea Abdullah
Djinn, Disguises, and Dangerous Desert Quests: The Sandsea Trilogy by Chelsea Abdullah

The Stardust Thief and The Ashfire King by Chelsea Abdullah (Orbit,
May 17, 2022 and February 20, 2024). Cover design by Lisa Marie Pompilio
Arabian fantasy with a true One Thousand and One Nights feel is rare these days, which is why we celebrate it when it comes along. And Chelsea Abdullah's debut novel The Stardust Thief, opening volume in The Sandsea Trilogy, has indeed been celebrated, with a bevy of enthusiastic reviews.
The Stardust Thief is a rousing tale of adventure, featuring a young thief with a djinn bodyguard, midnight assassins, dangerous desert quests, ancient lamps, magical disguises, a cruel prince and his softhearted younger brother, the Forty Thieves, and much more. Kirkus Reviews calls it "a beautifully crafted adventure," and the sequel, The Ashfire King, is already on the schedule for early next year. I bought copy of the first volume last weekend I'm looking forward to diving into it.
[Click the images for Arabian-sized versions.]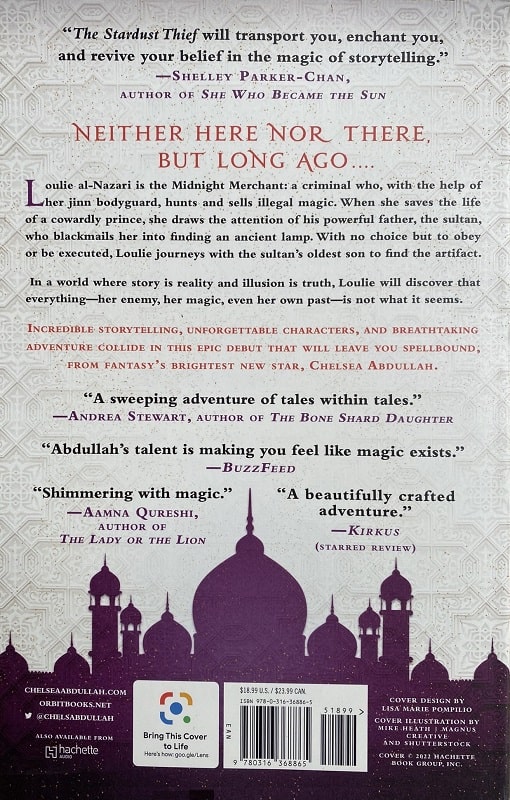 Back cover to The Stardust Thief
Here's an excerpt from that Kirkus piece.
This debut quest fantasy is the first of a trilogy concerning the revival of an ancient struggle between humans and jinn.

Years ago, assassins in black murdered all of Loulie al-Nazari's tribe; unaccountably, a wandering jinn named Qadir took her under his protection, posing as her human bodyguard. Today, Loulie hides behind the identity of the Midnight Merchant, locating and selling illegal magical relics. But now the sultan of Madinne has found her out and is forcing her to go on a dangerous desert quest to find the most ancient relic of them all — a lamp imprisoning an enslaved but incredibly powerful jinn — which he intends to use to commit jinn genocide. Along with Qadir, her designated companions are the sultan's cruel older son, Prince Omar, who rules the deadly band of jinn hunters known as the Forty Thieves, and Omar's most trusted thief, Aisha. Except that the prince on this journey is actually Omar's younger brother Prince Mazen, a softhearted and sheltered storyteller whom Omar has blackmailed into taking his place with a magical disguise… Not only is the story exciting… but the characterization and growth of the three human questers — and to a certain extent, the jinn Qadir — are extremely strong… A marvelous plunge into a beautifully crafted adventure.
Read the whole thing here.
The Stardust Thief was published in hardcover by Orbit Books on May 17, 2022, and reprinted in paperback on December 27, 2022. It is 469 pages, priced at $28 in hardcover, $18.99 in trade paperback, and $6.99 in digital formats. The cover was designed by Lisa Marie Pompilio. The Ashfire King will be released on February 20, 2024.
See all our coverage of the best new fantasy series here.