New Treasures: Dead Silence by S.A. Barnes
New Treasures: Dead Silence by S.A. Barnes

Dead Silence (Tor Nightfire, January 24, 2023). Cover by Timo Noack
Nightfire is Tor's new horror imprint. Launched in 2019, it's published books by Silvia Moreno-Garcia, Thomas Olde Heuvelt, Catriona Ward, Cassandra Khaw, Ellen Datlow, T. Kingfisher, and lots more.
That's all well and good, but has it given us a haunted house story in space that's a successful cross between 2001: A Space Odyssey and Alien? No. No it has not.
Well, at least it hadn't until the arrival of S.A. Barnes' Dead Silence, which Library Journal calls "a compelling haunted-house-in-space frame [with] excellent worldbuilding and sustained tension," and Locus says is a "great, immersive, atmospheric space horror that proves that, despite rumors to the contrary, horror belongs in space." (And yeah, for the record, Mur Lafferty tells us Dead Silence offers "the suffocating claustrophobia of 2001: A Space Odyssey mixed with the horrors of Alien." That's just not a blend you see every day.)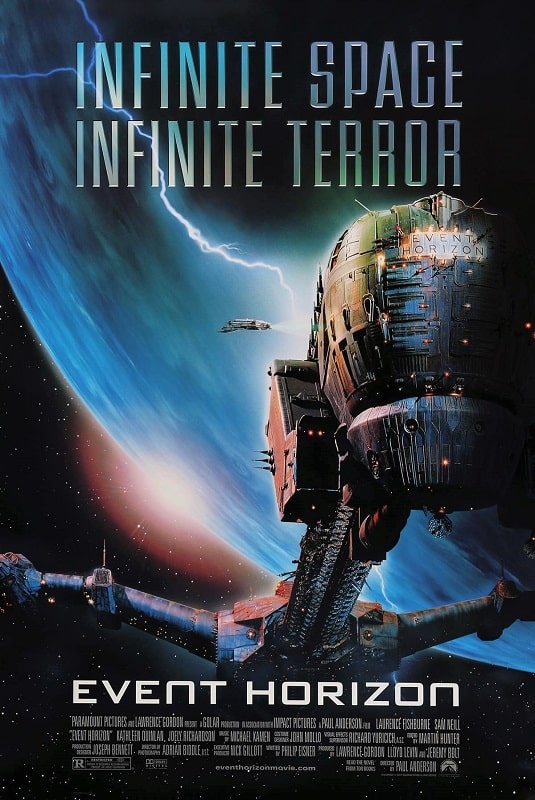 Event Horizon (Paramount Pictures, 1997)
Many of the reviews of Dead Silence compare it to the 1997 Laurence Fishburne/Sam Neill horror flick Event Horizon ("This Event Horizon-esque novel [is] recommended for fans of claustrophobic space horror" ― Booklist), and that's not a bad thing in my book.
Here's a longer pull from Gabino Iglesias' excellent review at Locus Online.
S.A. Barnes's Dead Silence is a creepy and incredibly at­mospheric horror novel that bridges the gap between Gothic horror and extreme horror… Claire Kovalik is about to be forcefully retired and has no idea what her future holds. For now, however, she is still the boss of a beacon repair crew floating in space and doing work she feels is already useless, given recent technological advances. With random suicidal thoughts and depression creeping in every time she thinks about being back on Earth and unemployed, Claire is happy to go explore a bizarre distress signal.

The signal leads them to an abandoned ship. However, this is no ordinary vessel: they find the Aurora, a renowned luxury space-liner that was packed with rich people, royalty, actors, famous athletes, and other assorted celebrities when it vanished into thin air two decades ago while on its on its maiden tour of the solar system. Claire knows that salvaging the Aurora, which has achieved legendary status thanks to its mysteri­ous disappearance, would bring her and her crew enough money to pursue whatever they want once they return to Earth, so they risk it all and board the ship in order to bring it home. Unfortunately, something is horribly wrong with the Aurora. The ship is full of floating bodies, most of them show­ing signs of extreme violence. There are messages written in blood in the walls of the vessel. The communications the crew of the Aurora tried to send at the end are broken up and hint at madness. Soon those things take the backseat as the crew hear things they're not supposed to hear…

Dead Silence is a superb hybrid horror novel that brings together science fiction, extreme psychologi­cal horror with a healthy dose of gore, and elements of Gothic fiction as the Aurora quickly morphs into something akin to an abandoned haunted mansion full of mysteries and wandering ghosts. The result is gripping and makes the novel a quick read de­spite its length… There is also a dash of humor and a blossoming love, both of which work to balance out the constant sense of dread and impending doom…

Dead Silence is its own unique monster full of great writing and well-developed characters. In other words, this is great, immersive, atmospheric space horror that shows Barnes is a talented storyteller and proves that, despite rumors to the contrary, horror belongs in space.
S.A. Barnes also writes as "Stacey Kade." Under that name she has produced a number of fantasy novels for teens, including The Ghost and the Goth trilogy.
Dead Silence was published by Tor Nightfire on January 24, 2023. It is 343 pages, priced at $18.99 in trade paperback and $11.99 in digital formats. The cover is by Timo Noack.
See all our recent New Treasures here.