Future Treasures: Meru by S.B. Divya
Future Treasures: Meru by S.B. Divya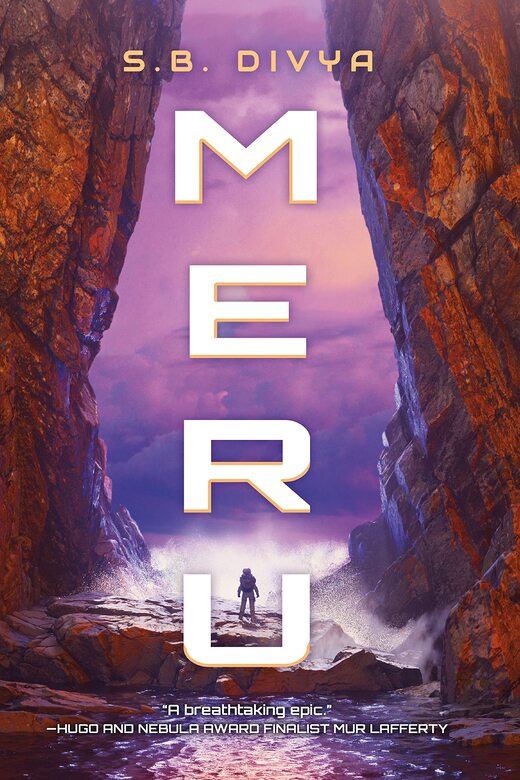 Meru by S.B. Divya (47North, February 1, 2023)
S.B. Divya has made a heckuva splash in just a few years. She was the co-editor (with Mur Lafferty) of the Hugo-nominated Escape Pod, and her debut novella Runtime (Tor.com, 2016) was nominated for a Nebula. Her first novel Machinehood (Saga Press, 2021) was also nominated for a Nebula last year.
Needless to say, her upcoming novel Meru is highly anticipated. A far-future thriller of a woman who attempts the impossible to prove that mankind is ready to live among the stars, it's already been called "a thrilling combination of traditional SF space travel and forward-thinking examinations of what 'humanity' will mean in the future" by Library Journal, and "rich and complicated [with] plenty of jaw-dropping space scenes" (Kirkus Reviews).
Meru will be released in trade paperback by 47North early next month.
Here's an excerpt from the starred review by Publishers Weekly.
Empathy convincingly overcomes anxiety in this thoughtful, inventive, and impressively understated space opera from Divya (Machinehood). Having devastated the environments of both Earth and Mars centuries before the start of the book, humanity has confined itself to Earth so as not to wreck any more planets and has accepted guardianship by the alloys, humankind's post-human, space-faring descendants. Now, Jayanthi, a human raised by alloys, wants to believe that humanity has outgrown its toxic "Aspiration and Avarice Disorder" and is fit to travel the universe again. To prove this, she sets out for the newly discovered planet Meru… Divya filters the immensity of outer space through the lens of close personal relationships, crafting compassionate and responsible characters (whatever their physical forms may be) that will surely win over readers. The result is subtle, strange, and immensely satisfying.
Meru will be published by 47North on February 1. It is 447 pages, priced at $16.99 in trade paperback and $4.99 in digital formats. No word on who did the cover, but I like it.
See all our coverage of the best upcoming SF and Fantasy here.