Vintage Treasures: The Lord Darcy Adventures by Randall Garrett
Vintage Treasures: The Lord Darcy Adventures by Randall Garrett

Too Many Magicians, Murder and Magic and Lord Darcy Investigates
(Ace, 1979 – 1981). Cover art by Robert Adragna
In 1977 Jim Baen accepted an offer from publisher Tom Doherty to return to Ace Books to head their science fiction line. Doherty left Ace to found Tor Books in 1980 and Baen soon followed him, but his years at Ace were extraordinarily productive. He resurrected an enormous amount of classic SF and fantasy from the magazines and brought it to a brand new audience, including Fritz Leiber's Fafhrd and the Gray Mouser, Poul Anderson's Flandry, Keith Laumer's Retief, Fred Saberhagen's Berserker, H. Beam Piper's Fuzzy novels, and collections by Robert Sheckley, James Tiptree, Jr, Robert E. Howard, James H. Schmitz, Barry N. Malzberg, and countless others.
One of the most distinctive works Baen championed was Randall Garrett's tales of occult detective Lord Darcy, set in an alternate England in which the laws of Magic are rigorously codified, but the laws of physics remain unknown. He gathered them into three volumes: the novel Too Many Magicians and the collections Murder and Magic and Lord Darcy Investigates. They captured a brand new readership, and the books have been reprinted half a dozen times in subsequent decades.
[Click the images to investigate further.]

Back covers of Too Many Magicians, Murder and Magic and Lord Darcy Investigates
Garrett was a prolific writer, contributing nearly 200 stories to Astounding, Amazing, Fantastic, and other magazines in the 50s and 60s. His first story appeared in Other Worlds in October 1950, and he continued writing until dramatically declining health, beginning with a meningitis infection in 1979, effectively ended his career. After several years in the hospital, he died in 1987 at the age of 60.
Garrett is remembered today primarily for two series: the seven Gandalara fantasy novels (written chiefly by his third wife Vicki Ann Heydron, from a draft of the first book and an outline by Garrett), and the Lord Darcy sequence. He was posthumously awarded the Sidewise Award for Alternate History Special Achievement Award for the Lord Darcy volumes in 1999, and Too Many Magicians was nominated for the Hugo Award for Best Novel in 1967.
Lord Darcy first appeared in January 1964 in the short story "The Eyes Have It," published in John W. Campbell's Analog, of all places. The character proved popular and returned eight months later in "A Case of Identity" (Analog, September 1964). In 1966 Too Many Magicians was serialized (in four issues) in Analog, and published in hardcover by Doubleday the following year.
Below are the fine covers by John Schoenherr for Garrett's stories in Analog, and Lord Darcy's appearances in Fantastic and Asimov's SF.

Four of the original magazine appearances for the Lord Darcy stories: Analog,
September 1964 and August 1966 (covers by John Schoenherr); Fantastic, May 1976,
and Asimov's SF, April 1979 (covers by Steve Hickman and Jack Gaughan)
Wikipedia has a fine assessment of the series, and especially the debt they owe to other mystery writers like Arthur Conan Doyle and Rex Stout:
Garrett is best known for the Lord Darcy books — the novel Too Many Magicians and two short story collections — set in an alternate world where a joint Anglo-French empire still led by a Plantagenet dynasty has survived into the twentieth century and where magic works and has been scientifically codified. The Darcy books are rich in jokes, puns, and references (particularly to works of detective and spy fiction: Lord Darcy is modeled on Sherlock Holmes), elements often appearing in the shorter works about the detective.
After Garrett's death his friend Michael Kurland picked up the reins and produced more two mysteries in the series, Ten Little Wizards and A Study in Sorcery. Kurland returned to the world of Lord Darcy again in his 1969 novel The Unicorn Girl, whose protagonists jumps into alternate timelines, including Lord Darcy's England.

The two Randall Garrett's Lord Darcy pastiche novels by Michael Kurland: Ten Little Wizards
and A Study in Sorcery (Ace Books, 1988 and 1989). Covers by James Warhola
Though Kurland would become a respected mystery practitioner — his novel A Plague of Spies and his Sherlock Holmes pastiche The Infernal Device were both nominated for an Edgar Award — he was known mostly for science fiction at the time, and these were his first mystery novels.
Like Garrett's version, Kurland's novels drew heavily from established fiction. From the Lord Darcy entry at Wikipedia:
Two more Lord Darcy novels, Ten Little Wizards (1988), and A Study in Sorcery (1989), were written by Garrett's friend Michael Kurland after Garrett's death. The two titles were manifestly modeled on those of famous detective novels by, respectively, Agatha Christie and Arthur Conan Doyle. This is similar to the way that Too Many Magicians was modeled on a famous novel by Rex Stout (whose Nero Wolfe and Archie Goodwin have counterparts in the novel's universe in the Marquis de London and his Special Investigator, Lord Bontriomphe). In the eleventh chapter of Ten Little Wizards, Kurland sets Lord Darcy's rank in the peerage as a Baron.
After Baen first collected the stories for Ace, Lord Darcy found favor with contemporary readers and the books remained in print for decades. They were reprinted by the Science Fiction Book Club, the Fantasy Masterworks line in the UK, and in many foreign language editions.

The collected Lord Darcy stories: SFBC omnibus volumes (1983 and 1999), and the Fantasy Masterworks
edition (Gollancz, 2014). Covers by Walter Velez, Denis Beauvais, and Grzegorz Domaradzki
After the Baen omnibus edition was published S.T. Karnick reviewed the series for the National Review in 2006, saying in part:
I have some good news for you regarding Randall Garrett's Lord Darcy mysteries, which I highly recommend for a bit of fun and somewhat meaningful reading… two complete Lord Darcy stories (novellas, really) are available online, at the site for Baen Books, the publisher of the Lord Darcy omnibus collection.

The Darcy mysteries were written in the 1960s and '70s and are set in an alternative twentieth century in which the Reformation never happened, the rules of magic were discovered during the Middle Ages, and technology has not advanced beyond the mid-nineteenth century. The stories (and one novel) combine dashing adventure, real fair-play puzzle mysteries, a world where magic is real but bound by definite rules, and some lightly presented insights into the human condition…

First published in science-fiction magazines in the 1960s and '70s, the stories tell the exploits of Lord Darcy, a detective who bears a striking resemblance to Sherlock Holmes.

But if Darcy seems familiar, the world in which he lives is anything but. In this alternative universe, King Richard the Lion-Hearted did not die young, having narrowly escaped death at the Siege of Chaluz (the source of his demise in our world), and that particular event changed everything… The resulting world is certainly an enchanting place. In the 1960s and '70s, travel is still mainly by horseback and railroad, and the streets and buildings are illuminated by gaslight…

Even a largely just and harmonious political order, however, cannot nullify the human heart's propensity toward sin. That, of course, is where Lord Darcy comes in. In this alternative twentieth-century Europe, he serves as Chief Criminal Investigator for Richard, Duke of Normandy… Assisted by forensic expert and Master Sorcerer Sean O Lochlainn, Darcy investigates crimes, all of which involve some use of magic either in the commission or investigation.

Despite the presence of magic, the puzzles are fairly clued; once Garrett establishes the rules of magic, he sticks to them, and we can trust that all the evidence will be laid before the reader before Darcy presents his ingenious solution. The puzzles are quite good, in fact, which is particularly remarkable in that Garrett was mainly a science-fiction writer (and a widely admired one). Darcy uses deduction to solve the crimes, while Sean serves the function of a forensic scientist…

Garrett's writing style is as elegant and charming as his setting, and his mastery of atmosphere is admirable…
Doubtless the best version for modern readers is that single-volume paperback edition mentioned by Karnick above, edited by Eric Flint and Guy Gordon and published by Baen in 2002 (see below). This volume contains two previously uncollected stories, "The Bitter End" and
"The Spell of War"(published in 1978 and 1979), lightly edited to remove repetitions of the backstory.

The Baen omnibus edition of Lord Darcy, edited by Eric Flint and Guy Gordon (2002). Cover art by Gary Ruddell
Eric Flint & Guy Gordon introduce the stories with a fine preface in the Baen edition. The whole thing is online; here's an excerpt.
Randall Garrett's Lord Darcy is, without doubt, one of the best known and most popular detectives in science fiction and fantasy. His stories are set in an alternate universe where magic works and the Plantagenet dynasty of England never fell. (Yes, that's Richard the Lion-Hearted and the rest of the crew — say what else you will about them, the Plantagenets were the most colorful dynasty in English history.) This volume marks the first time that all eleven stories, including the full-length novel Too Many Magicians, have been collected between the covers of a single book.

With the exception of "The Spell of War," which we've placed as an appendix, all the stories are arranged in chronological order. An interesting facet of this series is that the date in the story corresponds closely to the year it was written. Garret wanted to give you the feel that this was taking place now — as our world would be with two "minor" changes.

Lord Darcy's career as the Chief Investigator for the Duke of Normandy (and Special Investigator for the High Court of Chivalry) spans a period of approximately a dozen years. The first story, "The Eyes Have It," begins with Darcy as a well-established detective, a man in his early forties…

We placed "The Spell of War" as the conclusion to the volume, even though in terms of internal chronology it is by far the earliest of the tales. The reason we did so is because this story is atypical. It is a war story, not a detective story. It was the last Darcy story which Garrett wrote, late in his career. It tells the tale of how Darcy first met Sean O Lochlainn — not, as they would become a quarter of a century later, as Chief Investigator and Master Sorcerer, but as a very young lieutenant and a young sergeant, fighting together with guns and magic in the trenches of the War of '39.
The Baen omnibus contains Too Many Magicians and all ten Lord Darcy stories by Randall Garrett. Here's the complete contents:
Novel
Too Many Magicians (1967)
Short stories
"The Eyes Have It" (1964)
"A Case of Identity" (1964)
"The Muddle of the Woad" (1965)
"A Stretch of the Imagination" (1973)
"Matter of Gravity" (1974)
"The Ipswich Phial" (1976)
"The Sixteen Keys" (1976)
"The Bitter End" (1978)
"The Napoli Express" (1979)
"The Spell of War" (1979)
Garrett's health decline came on quickly and unexpectedly.
In the summer of 1979 he contracted what was likely viral meningitis, and shortly thereafter began to exhibit severe amnesia. In August 1981 he was hospitalized, and he remained in hospital until his death in 1987.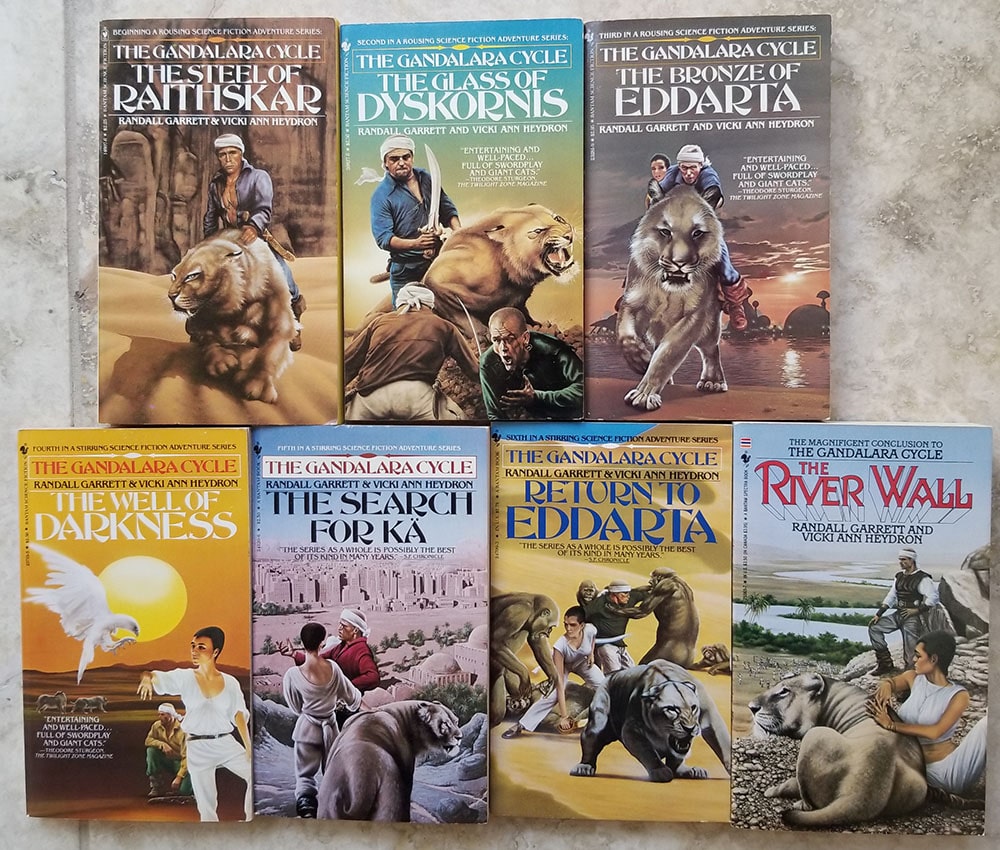 The Gandalara Cycle by Randall Garrett and Vicki Ann Heydron (Bantam, 1981-86). Covers by Jim Burns
During these years (1981-86) Garrett once again achieved some renown, albeit perhaps unexpectedly, this time with the well-received Gandalara Cycle written by his third wife Vicki Ann Heydron, but credited to Garrett and Heydron. Garrett wrote a draft of the first book and an outline for the series; it's unknown exactly how much he contributed to the seven published novels, but it's likely they were written almost entirely by Heydron.
Here's the publishing details for the three Ace Lord Darcy volumes.
Murder and Magic (266 pages, $1.95 in paperback, January 1979) — Cover by Robert Adragna
Too Many Magicians (342 pages, $2.25 in paperback, September 1979) — Cover by Robert Adragna
Lord Darcy Investigates (229 pages, $2.50 in paperback, September 1981) — Cover uncredited
See all our previous coverage of the best classic fantasy series here.