Vintage Treasures: Life During Wartime by Lucius Shepard
Vintage Treasures: Life During Wartime by Lucius Shepard

Life During Wartime (Bantam Spectra paperback reprint, July 1991). Cover by Mark Harrison
In April 1986 Lucius Shepard published his famous novella "R&R" in Isaac Asimov's Science Fiction Magazine. It was the tale of young David Mingolla, an American draftee reluctantly fighting a war in a near-future Central America, where psychics predict enemy movements and soldiers are fed a cocktail of experimental combat drugs. It was an immediate hit, nominated for a Hugo Award and winning the SF Chronicle, Locus, and Nebula Awards.
Shepard expanded it into Life During Wartime in 1987, his most successful novel, nominated for the Locus, Dick, and Clarke awards. I read it in the summer of 1988 and found it filled with haunting scenes. It's perhaps the most memorable SF depiction of war I've ever seen, a scathing indictment of American interventionism, with insane A.I's (who still make more sense than the war), secret psy-ops, a Heart of Darkenss-like trek through a twisted and lethal jungle, and the dark secret of the war's origins waiting for Mingolla at the end of his harrowing journey.
[Click the images for war-sized versions.]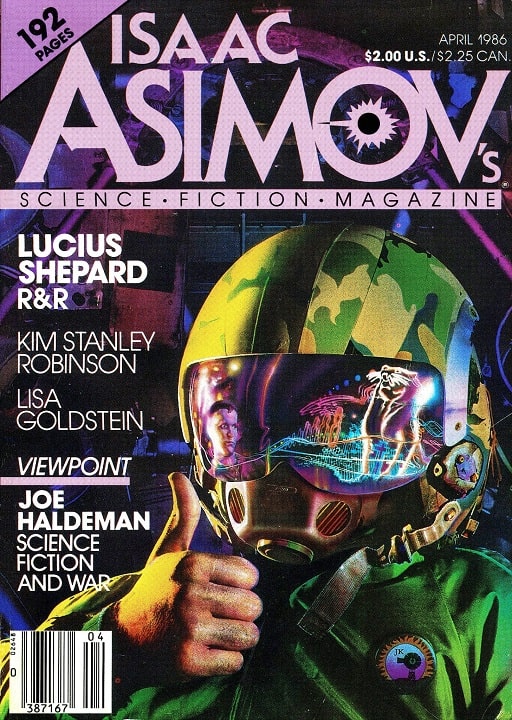 The April 1986 issue of Isaac Asimov's Science Fiction Magazine,
containing Lucius Shepard's novella "R&R." Cover by J.K. Potter.
Near future SF doesn't always age well, especially one as deeply inspired by 80s American cold war paranoia and Central America adventurism as Life During Wartime, but I revisited the novel last month and found it held up well. Plotting isn't Shephard's strong suit, and Life During Wartime is no exception. Its central narrative thread isn't particularly memorable, but its portrayal of war as a pointless and horrific exercise is right on point.
In its 2016 SF Essentials list, Mind-Bending/Expanding SF/F Novels, Nerds of a Feather called Life During Wartime "Grimdark with a purpose," and that's one of the most on-target assessments of this book I've seen.
David Mingolla soon learns that escape from the rotten jungles of Guatemala is impossible – he is once more a pawn of secret, ruthless forces lusting for world domination. They try to dominate David by ordering him to kill the woman he loves.

Uneven and at times problematic work of #FutureWar (see: white man in jungle trope). Sheer quantity of graphic violence and explicit sex will also be a barrier for some readers. However, in its best moments, Life During Wartime captures the pointless, psychedelic horror of war. Grimdark with a purpose.
Life During Wartime was originally published in trade paperback by Bantam Spectra in October 1987, and reprinted in mass market in 1991 with a wraparound cover by Mark Harrison. Here's a look at the original trade edition.

Life During Wartime (Bantam Spectra trade paperback original, October 1987). Cover by Larry Noble
Life During Wartime was Shephard's second novel, and was widely reviewed. Here's an extract from Tom Carson's notice at the Los Angeles Times, which (correctly) points out that Shephard's elaborately constructed setting is the novel's great strength.
The best thing Shepard has going for him is his premise. In an unspecified near future, Central America has become the next Vietnam…. A huge U.S. Army is fighting an elusive enemy, decked out in all the familiar paraphernalia of body bags, choppers, and firebases — as well as some unfamiliar new wrinkles, like the "Sammy" (for samurai) drug that's given to troops to jack up their fighting spirit.

The young soldier David Mingolla, on leave in "Free Occupied Guatemala," is already half nuts from the war. The careful rituals he and two buddies have evolved to keep their sanity gets disrupted — for one by a breakdown into Sammy-induced psychosis, for Mingolla by an attraction to a woman named Debora, who responds in kind while also hinting at quite another sort of bond between them.

Mingolla, it seems, is psychic, as is she. But both sides in the war use psychics as weapons, supposedly for their prophetic gifts, actually for their ability to control others' minds.

Recruited for the elite Psicorps, Mingolla is told that his first assignment — a bit part, this — is to kill Debora. But the expected will-he-or-won't-he scene never materializes. Instead, Mingolla's mission turns into a long, freakish journey through the war zones, with Shepard laying on one heart of darkness after another — endless brutalities, and a gallery of eccentric Kurtzes, each with a story to tell. Ultimately, in Panama, with Debora as his lover and intermittent ally, Mingolla penetrates the secret of the power which has been orchestrating the war all along.
Read the complete article here.
Here's a look at Mark Harrison's very fine wraparound art for the paperback edition.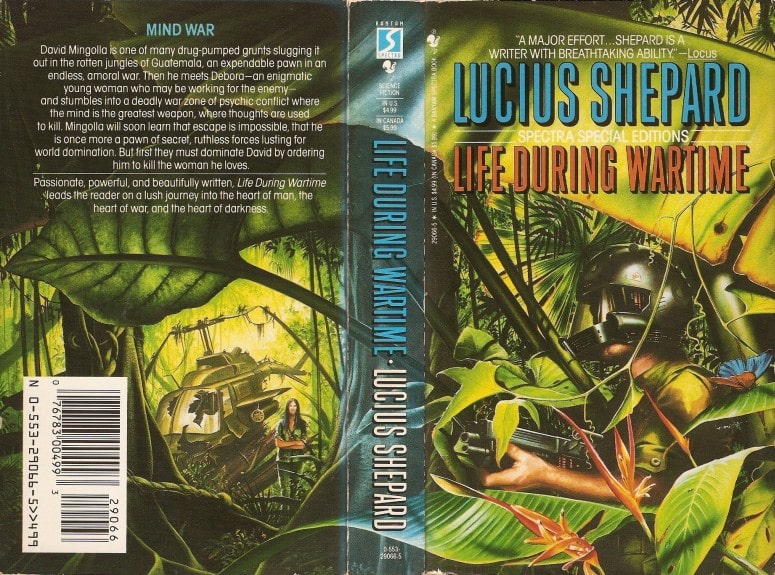 Mark Harrison's wraparound cover for the Bantam Spectra paperback (July 1991)
Life During Wartime was published in mass market paperback by Bantam Spectra in July 1991. It is 438 pages, priced at $4.99. The cover is by Mark Harrison.
It was reprinted in the UK in 2006 as part of Gollancz's prestigious SF Masterworks line, with a gorgeous cover by Dominic Harman. A digital edition was released by Gollancz/Orion in 2010.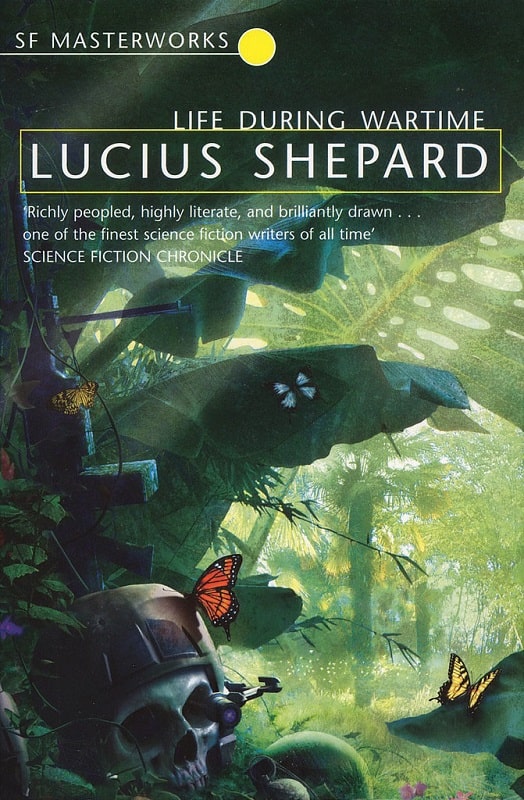 SF Masterworks edition of Life During Wartime. Cover by Dominic Harman
See all our Vintage Treasures here.