Magic, Dinosaurs, and Mad Scientists: The Tensorate Series by Neon Yang
Magic, Dinosaurs, and Mad Scientists: The Tensorate Series by Neon Yang

The Tensorate Series (Tor.com, September 21, 2021). Cover by Yuko Shimizu
I love omnibus volumes. They're the safety blanket of the fat fantasy market. Let's face it, if your plane's going down over a desert island and you can only grab one book, you're gonna secure yourself a thick omnibus, right? Of course you are. Heaven knows how long it will take until that stately cruise liner arrives to rescue you. I plan all my book purchases with this in mind, and it's worked out well so far.
It's great to see Tor.com start to produce omnibus editions of their popular novellas. They did it with Nnedi Okorafor's Binti. The did it with Andy Remic's An Impossible War novellas, and Sarah Gailey's American Hippo stories. They did it with Matt Wallace's Sin du Jour. They did it with…. well, actually, I think that's it. But what the hell, it's a start.
Late last year Tor.com published a tidy omnibus volume of all four of Neon Yang's Tensorate novellas, a series that has been nominated for the Hugo, World Fantasy, Nebula, and Locus awards, and it was such a great value I snatched it up immediately. I'm ready for the plane to go down, Captain.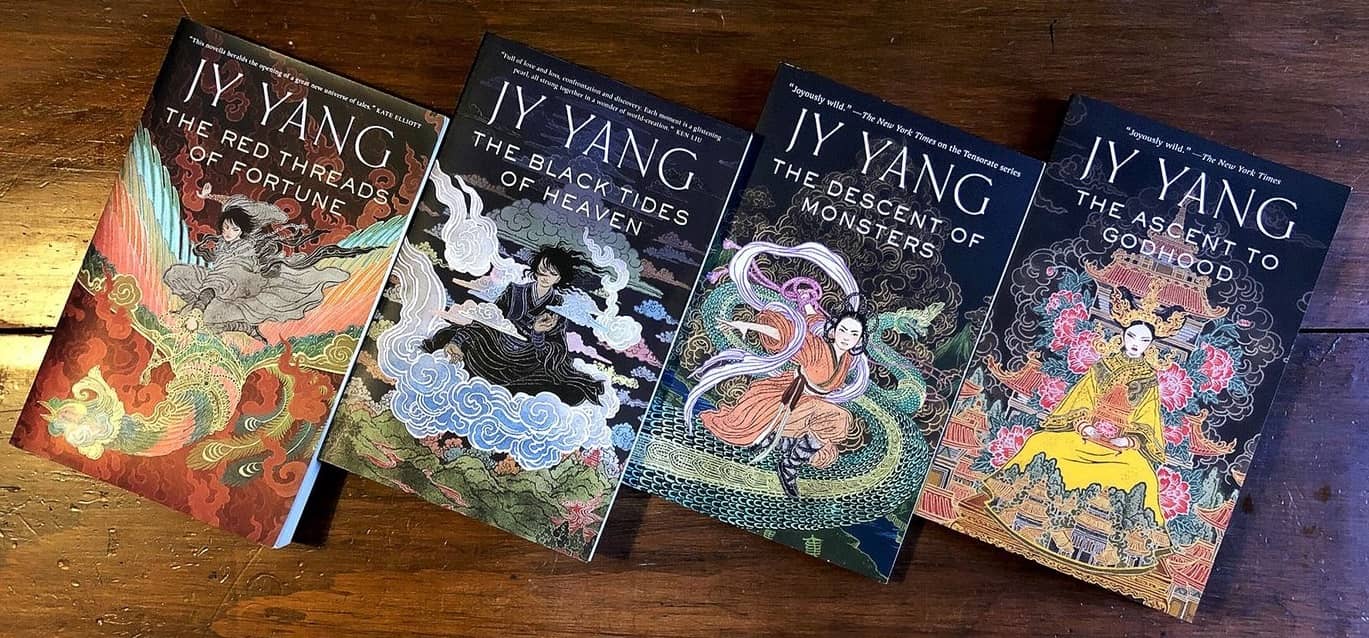 All four Tensorate novellas from Tor.com. Covers by Yuko Shimizu
Neon Yang, who also publishes short fiction as J. Y. Yang (and more recently as JY Neon Yang), is a queer nonbinary author working out of Singapore. Their short fiction has been published in Clarkesworld, Uncanny Magazine, Lightspeed, Tor.com, Lackington's, The Book of Dragons, The Mythic Dream, and many other fine places.
The Tensorate Series was originally published as four novellas, all from Tor.com.
1 The Black Tides of Heaven (2017)
2 The Red Threads of Fortune (2017)
3 The Descent of Monsters (2018)
4 The Ascent to Godhood (2019)
Andrew Liptak reviewed the entire series at The Verge back in 2019, calling it "a sweeping, experimental blend of sci-fi and fantasy." Here's Andrew.
It's set in a world where an oppressive monarchy called the Protectorate is facing an entrenched revolution from a rebel group called the Machinists. The Protectorate holds onto power by controlling who can utilize a magical system known as Slackcraft, and it utterly controls the lives of its subjects. However, it's grown decadent and corrupt over the decades, and under the reign of Lady Sanao Hekate, The Protector, it's brutally cracked down on its citizens. That's given rise to the Machinists, who work to topple the government, all while bringing power to the people with the help of machines that take the place of Slackcraft and those who control it.

Yang plays out their story through an incredible blend of science fiction and fantasy. There's magic, dinosaurs, weird scientific experiments, spycraft, revolutionaries, mad scientists, and more, all packed into the four books. The Red Threads of Fortune and The Black Tides of Heaven each tell the story of Sanao Hekate's children: Mokoya, who has prophetic visions, and Akeha, who can innately understand what motivates people into action. Akeha leaves the Grand Monastery to join the Machinists, while Mokoya sets off on her own after the death of her daughter, hunting Naga, giant monsters that roam the world.

In The Descent of Monsters, we follow Chuwan Sariman, a Tensorate investigator who is trying to piece together what happened at an experimental science facility, and who ultimately finds a horrifying conspiracy that shows just how far the Protectorate will go to hold onto its power. In the latest and final installment, The Ascent of Goodhood, we learn how the Protectorate came to be, and how Sanao Hekate became its leader…. The Red Threads of Fortune and The Black Tides of Heaven are relatively conventionally told, but Yang takes a slightly different approach with The Descent of Monsters, writing out a thriller through the use of official reports, documents, and letters. The Ascent of Goodhood, meanwhile, is a one-sided conversation between Lady Han and an unnamed partner.

With that unconventional approach, Yang plays out a much larger story than the four slim books would otherwise suggest. We get the outlines of a grand history and epic struggle between an oppressive empire and the people who oppose it.
Read Andrew's full review here.
The Tensorate Series omnibus edition was published by Tor.com on September 21, 2021. It is 465 pages, priced at $20.99 in trade paperback and $12.99 in digital formats. The cover is by Yuko Shimizu.
See all our recent New Treasures here.