Vintage Treasures: The Magic Toyshop by Angela Carter
Vintage Treasures: The Magic Toyshop by Angela Carter
The Magic Toyshop (Dell, 1969). Cover art by Michael Leonard
The Magic Toyshop, first released in 1967, was Angela Carter's second novel. She eventually published over a dozen novels and collections between 1966 and 1992, when she died of lung cancer at the much-too-young age of 51. Three decades later she's still remembered as a feminist icon and master of magical realism; in 2008 The Times ranked her 10th in their list of "The 50 greatest British writers since 1945."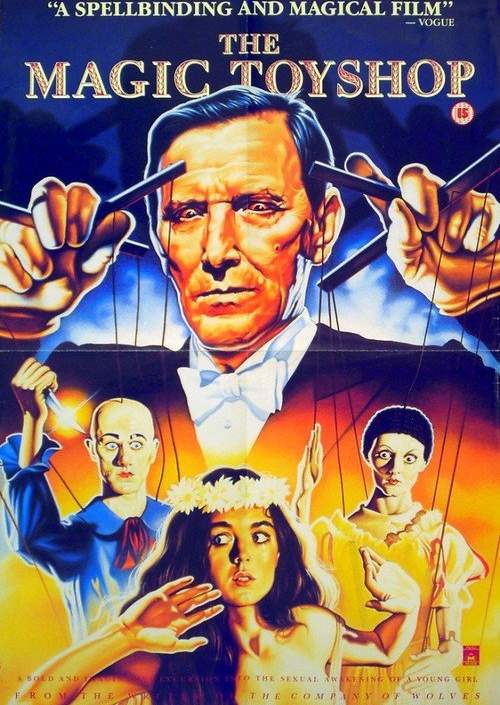 The Magic Toyshop (Granada Television, 1987)
The Magic Toyshop was made into a 1987 TV movie starring Caroline Milmoe and Tom Bell, and directed by David Wheatley.
It's not considered a genre work today, though it was marketed as contemporary horror in the late 60s (the breathless cover blurbs proclaim it "Weird, erotic," and "horror is piled upon bizarre horror… touched with the grotesque"), but most of its horrors are the rich-orphan-sent-to-hang-with-the-cruel-relative sort. Though the cruel relative here, the tyrannical uncle Philip, is about as horrific as they come.
My favorite contemporary review is by Evie Wyld for The Guardian, who says, "The Magic Toyshop changed everything."
The Magic Toyshop by Angela Carter was the first book I read at school that seemed to make some kind sense of my life. I was 15, and… reading the first page of The Magic Toyshop was revelatory. My bad, bald self-portraits began to make sense. I was trying on other skins, attempting to fit comfortably into my own. The story's protagonist, Melanie, discovers her own body at the age of 15 in a way that completely scandalised our English class….

It is often the magical, fabular aspects of Carter's stories that people focus on, but in The Magic Toyshop I responded to the way she blended this with a clear-eyed realism about what it was to live in a female body. Carter seemed to be saying something about female experience, that it had a different kind of relationship to reality than those breezy male characters I had previously met, confident in their role as subject and point of view. Melanie becomes aware of her body and sexuality as part of a process of literal discovery in which she compares it to America. Rereading this book, I am struck by this metaphor, the female body as colonised land, site of projected meaning, violence and plunder…

Melanie is only able to understand her body by turning it into another kind of object, but in doing so she understands this is a power. As a young girl experiencing that moment when your body is both the vessel for your self but suddenly, as if overnight, also a thing, a collection of objects for men to look at, assess, interpret and desire, Carter's story seemed to speak directly to my life. That this was an experience from which art could be made felt like someone had opened a door somewhere.

My English teacher, sensing a student pricking up her ears for the first time, took me one Saturday to hear Carmen Callil, Carter's best friend and editor, talk. She told us that "Angie" couldn't spell. That was perhaps the most encouraging thing I'd heard from anybody, that the gridlines of schoolwork didn't mark the limits of ability. In her introduction to the 1981 edition, Callil writes that "all over the world are literary incendiary bombs planted by Angela, and in Britain, young writers whom she encouraged."
Read the whole thing here.
The Magic Toyshop was published in paperback by Dell in 1969. It is 189 pages, priced at 75 cents. The gorgeous and disturbing cover is by Michael Leonard.
See all our Vintage Treasures here.