New Treasures: The Best of Michael Marshall Smith
New Treasures: The Best of Michael Marshall Smith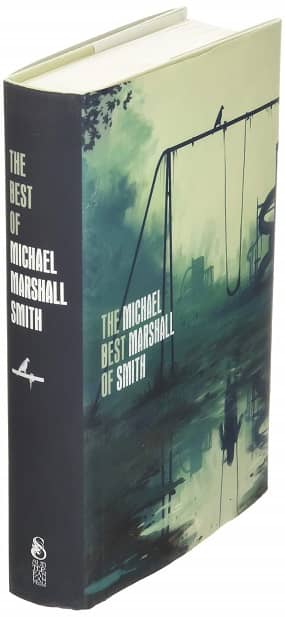 I don't pay a lot of attention to the limited edition small press genre market here because, well, most of their output is overpriced and aimed squarely at collectors. The exception is Subterranean Press, who do fabulous work — and routinely produce much more reasonably priced editions of their high-end volumes.
The latest author to get the Subterranean treatment is Michael Marshall Smith, author of Spares (1996), Bad Things (2009), and many other novels, and more than half a dozen short story collections, including What You Make It (1999), and More Tomorrow & Other Stories (2003). The Best of Michael Marshall Smith is a mammoth 568-page retrospective that gathers 30 of Smith's best stories from his lengthy and successful career. In a starred review, Publishers Weekly calls it a standout collection:
This standout collection showcase Smith's facility at imbuing genre tropes with humanity. Every entry offers something unexpected, while grounding inventive paranormal situations in recognizable emotion. Smith.. crafts a plausible sequel to Lovecraft's "The Music of Erich Zann" with "Window of Erich Zann," successfully transplanting the tale from Europe to Haight-Ashbury and exploring the protagonist's capacity to see into a terrifying alternate reality. Smith's first published short story, "The Man Who Drew Cats," which won the British Fantasy Award in 1991, offers a searing window into domestic violence…
Here's the publisher's description.
In 1990, British-born author Michael Marshall Smith burst on to the literary scene with his first story "The Man Who Drew Cats." It won the prestigious British Fantasy Award for Best Short Fiction, and he went on to win the award again the next year. In a career that has now spanned three decades he has written nearly 100 short stories, published more than a dozen best-selling novels around the world, and scripted numerous movie and television projects. Now, to celebrate his three decades as a writer, The Best of Michael Marshall Smith brings together thirty of his most emotive and powerful stories (including all his award-winning short fiction), along with extensive story notes by the author.

Featuring evocative heading illustrations by Les Edwards, this career-spanning collection includes such memorable tales as "Hell Hath Enlarged Itself," "More Tomorrow," "To Receive is Better," "What You Make It," "Later," "The Dark Land," "What Happens When You Wake Up in the Night," "Always," and many others, in their definitive versions.

By turns touching, disturbing, and frightening, these stories are not limited by theme or genre, but reveal a writer always in command, and whose imagination knows no bounds. The Best of Michael Marshall Smith is the ultimate compilation of the author's work, and stands as a testament to his mastery of, and commitment to, his craft.
The Best of Michael Marshall Smith was published by Subterranean Press in a deluxe hardcover edition on December 31, 2020. It is 568 pages, priced at $44 in hardcover and $6.99 in digital formats. The cover is by Stefan Koidl; the interior story heading illustrations are by Les Edwards. Order directly from the Subterranean website.
See all our recent New Treasures here.