Future Treasures: Remote Control by Nnedi Okorafor
Future Treasures: Remote Control by Nnedi Okorafor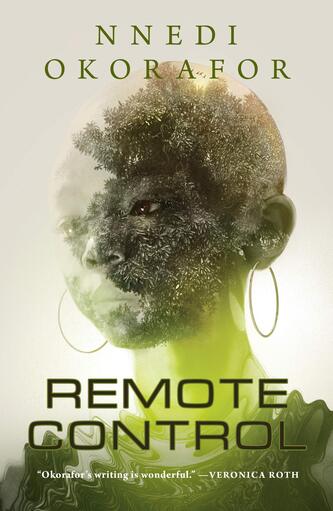 Nnedi Okorafor has won every major award our small field has to offer. She won a Hugo and Nebula Award for her Tor.com novella Binti, a World Fantasy Award for Who Fears Death, a Locus Award for Akata Warrior, an Eisner Award and another Hugo Award for the comic LaGuardia — and a great many more, including a Black Excellence Award, Kindred Award, Lodestar Award, and awards I've never even heard of. I hear that when she steps outside to pick her up dry cleaning, strangers throw awards at her.
Her latest is another intriguing Tor.com novella, Remote Control, the tale of an alien artifact that turns a young girl into Death's adopted daughter. Publishers Weekly calls it "electrifying," and Library Journal praises its "stunning landscape of futuristic technology and African culture." Here's the description.
She's the adopted daughter of the Angel of Death. Beware of her. Mind her. Death guards her like one of its own.

The day Fatima forgot her name, Death paid a visit. From hereon in she would be known as Sankofa ­­― a name that meant nothing to anyone but her, the only tie to her family and her past.

Her touch is death, and with a glance a town can fall. And she walks ― alone, except for her fox companion ― searching for the object that came from the sky and gave itself to her when the meteors fell and when she was yet unchanged; searching for answers.

But is there a greater purpose for Sankofa, now that Death is her constant companion?
Remote Control will be published by Tor.com on January 19, 2021. It is 160 pages, priced at $19.99 in hardcover and $10.99 in digital formats. Read Chapter 1 at i09.
See all of our coverage of the best upcoming SF and fantasy here.