The Odyssey of Guy Davenport
The Odyssey of Guy Davenport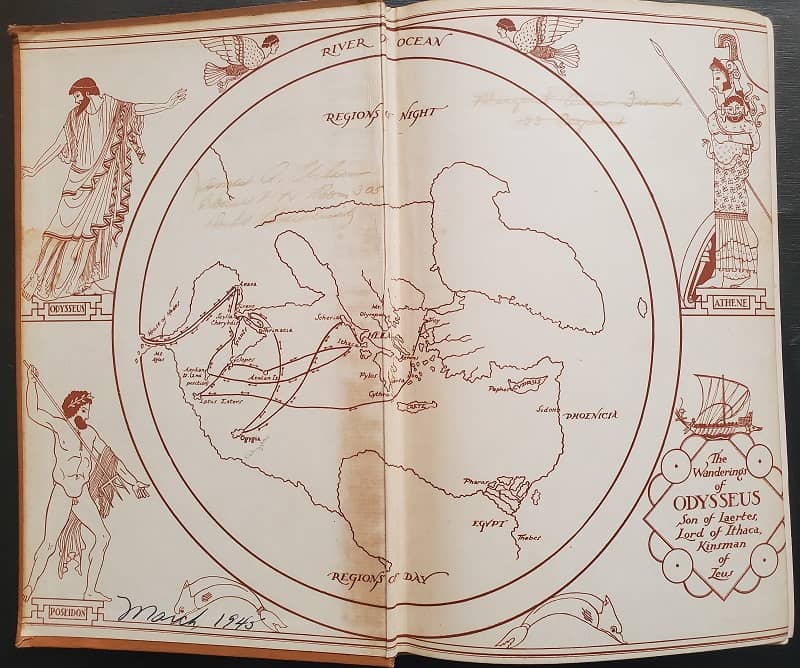 Inside cover of The Odyssey of Homer by TE Shaw (1945),
showing the wanderings of Odysseus
I bought a book last week from a bookseller on Instagram, the first time I've ever done that. It was a copy of T. E. Shaw's translation of Homer's Odyssey. Yes, that T. E. Shaw, Lawrence of Arabia.
The book is old, beat, and tired. It's probably a twelfth printing, depending on how you count such things, but what caught my attention was that the seller had included a photo of the previous owner's signature, Guy Davenport, Jr., and the signature was dated 1945.
Did this copy of the book belong to Guy Davenport, a minor but very interesting science fiction writer who won a MacArthur fellowship in 1990? I bought the book and then started to research.
I've found nothing conclusive, but everything points in that direction. Davenport was named after his father Guy Mattison Davenport and was, in fact, a Junior. Davenport would have been 18 years old in 1945, just the right age to read the book in either his first year of college or his last in high school. He taught for 27 years at the University of Kentucky and lived in Kentucky for another 15 years until his death in 2005, so the book turned up in the correct geographical location.
[Click the images for bigger versions.]
Cover, publication data, and inscription in the TE Shaw volume
So who was Guy Davenport? I'd barely heard of him until I had dinner one night with the writer Hal Duncan and a prominent French editor at a science fiction convention a number of years ago. Duncan claimed that Guy Davenport was his favorite author, which I and the editor found surprising.
Davenport was a translator, primarily of Greek texts, and a writer of short stories and essays. He was friends with Ezra Pound, who he met in 1950 while the poet was incarcerated for treason, but also with other writers such as John Updike, Dorothy Parker, and Joyce Carol Oates.


Title page, and detail from inside cover
So I'm happy with my little purchase. It appears to be a formative book once owned by an impressionable author-to-be. Is it valuable? Not really, although there must be two or three Guy Davenport collectors out there somewhere.
Postscript: The seller, @readwritebooks_forsale, tells me that he bought the book as part of a larger lot from a woman he now believes to be Guy Davenport's daughter. He had never heard of Guy Davenport, though, until I enquired, as I'm sure that neither had many of you. I'd barely heard of him myself. A few whispers, really. A very occasional story in a magazine or in an anthology. He appears never to have desired to become a commercial novelist. And yet like Avram Davidson and R. A. Lafferty his stories continue to sputter in and out of fashion, a legacy for all, if we would only reach and grab it.