Vintage Treasures: The Trackers Series by David Gerrold
Vintage Treasures: The Trackers Series by David Gerrold
Covers by Michael Herring
David Gerrold began his career as a screenwriter for Star Trek (the famous episode "The Trouble With Tribbles"), Land of the Lost, Babylon 5, Sliders, and others, but today he's chiefly known as an author and novelist, with such works as the Hugo Award winning "The Martian Child" (made into a 2007 John Cusack film), The War Against the Chtorr series, Star Wolf, and most recently Hella, a 2020 adventure thriller set on a world where everything is monstrously huge ("hella big").
Anyone with a career that rich has a few interesting tales, and one of the more intriguing is the saga of Trackers, the story of a colony planet of human, androids and reptilian hunters that bands together to "strike back against their vampire overlords and bring revolution to the stars." In 1987, while he was serving as a story editor for Star Trek: The Next Generation, Gerrold left to develop a Trackers mini-series for CBS.
In April I was offered the opportunity [to] write and produce a four-hour science-fiction mini-series for CBS and Columbia Television. The series is called Trackers and the Executive Producer is Daron J. Thomas. If the mini-series is a hit, then a regular weekly SF TV series would be developed from it. This was a very difficult decision for me to make. Star Trek has always been a home to me… [but] now, it was obvious to me that it was time to leave home. Or as my agent put it: "You can't turn down the chance to be the Great Bird of your own galaxy."
Trackers was never produced, and instead Gerrold turned it into a two-volume series for Bantam Spectra, Under the Eye of God (1993) and A Covenant of Justice (1994).
[Click the images for space-opera sized versions.]
Back covers for Under the Eye of God and A Covenant of Justice
Neither volume has been reprinted since the mid-90s (though BenBella Books released digital editions in 2014). Nonetheless, the series continues to find readers today among folks who find copies of the original paperbacks.
Here's a snippet from Alan Wheeler's 4-star review at Amazon (appropriately titled "I think this would make a decent movie"):
Set in a universe where human civilization was forced to flee the Milky Way galaxy to a nearby globular cluster, this book picks up millennia later, when their genetically-engineered solution to this existential threat has evolved into a brutal tyranny. The two genetically engineered races that are currently in control are the Vampires, who serve as the aristocracy, and the Dragons (think intelligent velociraptors) who serve as their enforcers. The book follows a number of characters with differing motives who are forced together by circumstance in an effort to overthrow this long-standing tyranny… the dialogue and humor are up to Gerrold's usual high standards. Even the footnotes were entertaining.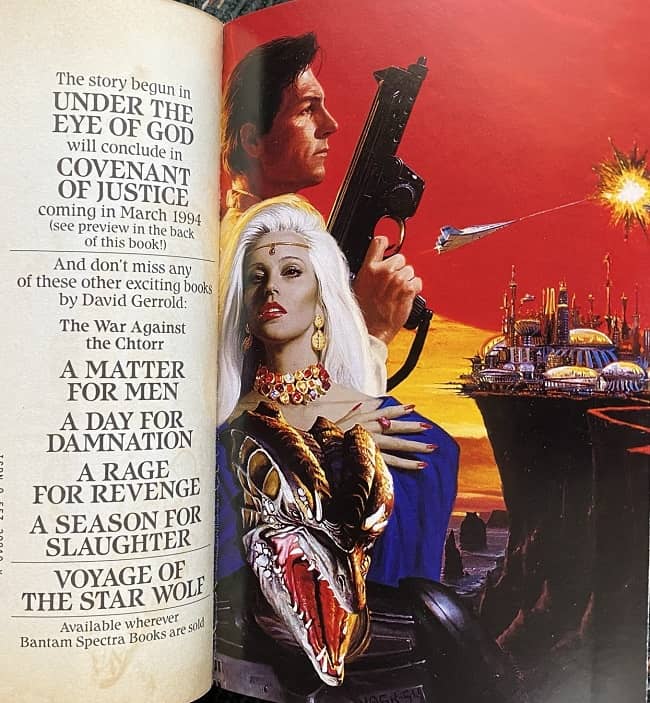 Inside flap with Michael Herring's lush full cover for Under the Eye of God
Most of the readers seemed to appreciate the imaginative backstory, as John Shannonhouse does:
This story is set in a universe where humans and animals have been genetically engineered to face down a long vanished threat (at least it seems long vanished). What worked so well at the time has, over a period of centuries, become a tyranny such as we have never seen.

David Gerrold pull these seemingly incompatible elements in a way that flows naturally. I love the story.
Typical for high-profile paperback releases in the 90s, Under the Eye of God included a full-color inside flap with the complete version of Michael Herring's lush cover. The sequel, A Covenant of Justice, was missing an inside flap, so here's a look at a bigger version of the original art, courtesy of the owner.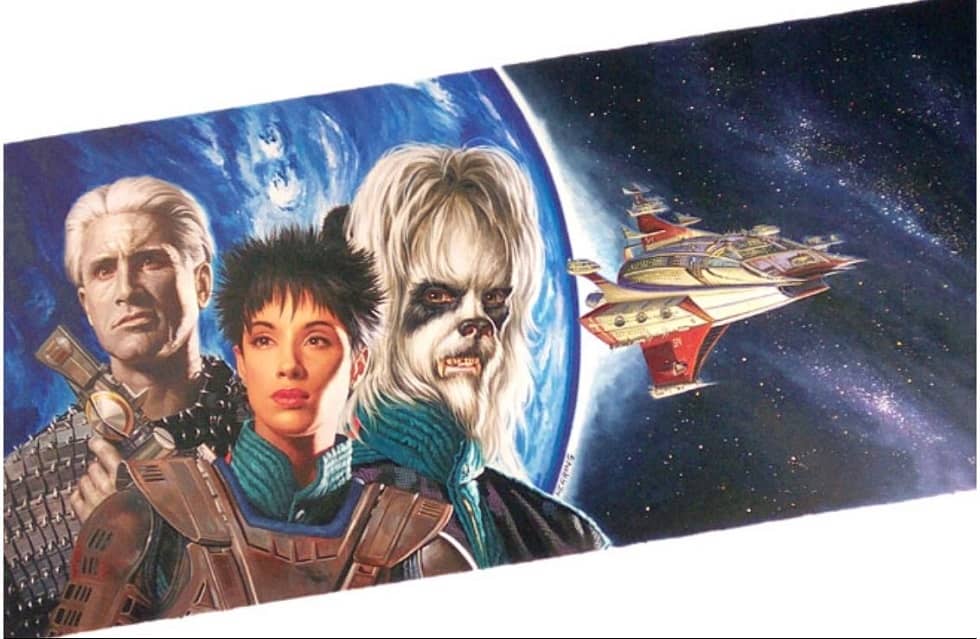 Cover detail from A Covenant of Justice; art by Michael Herring
Here's the complete publishing details for both volumes.
Under the Eye of God (345 pages, $5.99 in paperback, December 1993)
A Covenant of Justice (354 pages, $5.99 in paperback, May 1994)
Both were published by Bantam Spectra, with covers by Michael Herring. Neither has been reprinted in the past 25 years, but copies aren't hard to find. I bought the unread copies I scanned for this article on eBay last month for around the original cover price.
See all our recent coverage of the best in vintage SF and fantasy here.