Future Treasures: Nophek Gloss by Essa Hansen
Future Treasures: Nophek Gloss by Essa Hansen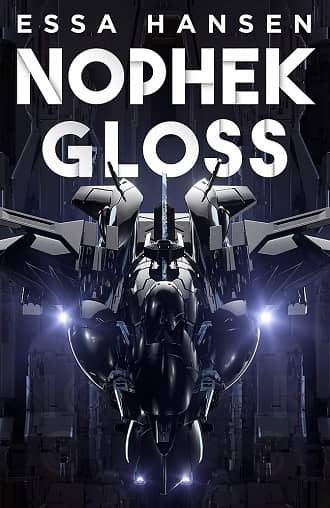 There are times when you need to tune out all the chaos in the world. The week after a tumultuous US election is definitely one of them.
And you know what helps with that, don't you? A brand new book from an exciting debut author. The one I've got in mind is Nophek Gloss, the tale of a young man who sets out on a single-minded quest for revenge across the galaxy when his planet is destroyed. It arrives from Orbit on Tuesday, and it's preceded by a lot of great press.
What kind of press? Michael Mammay (Planetside) says it "reads like a Becky Chambers novel crossed with Firefly," and The Quill to Live calls it "a bizarre journey through space and time with a lovable crew of rogues on a spaceship."
Booklist says it's packed with "fast-paced action, and stunning scientific concepts, with mercantile and political intrigues spanning manifold universes," and Publishers Weekly calls it a "wonderfully inventive debut":
A revenge plot leads mechanic Caiden across a multiverse populated by a colorful array of humanoid species in Hansen's wonderfully inventive debut, the first of a space opera trilogy. Fourteen-year-old Caiden lives on a planet that raises vicious predators called nophek. When the planet is attacked by a new shipment of nophek, Caiden alone escapes, and uses his unique ability to manipulate technology to pilot an abandoned spaceship. Caiden soon joins a team of scavengers who guide him to Emporia, an interstellar marketplace where he learns more about the Casthens, who orchestrated the slaughter of his people, and undergoes genetic manipulation to accelerate the development of his body and mind. He emerges a 20-year-old determined to bring down the Casthen… Space opera fans will be eager for the next installment.
Nophek Gloss is the opening novel in The Graven series. It will be published by Orbit Books on November 17, 2020. It is 448 pages, priced at $16.99 in trade paperback and $9.99 in digital formats. The cover is by Mike Heath. Read the first two chapters here.
See all our recent coverage of the best upcoming SF and fantasy here.