New Treasures: Unconquerable Sun by Kate Elliott
New Treasures: Unconquerable Sun by Kate Elliott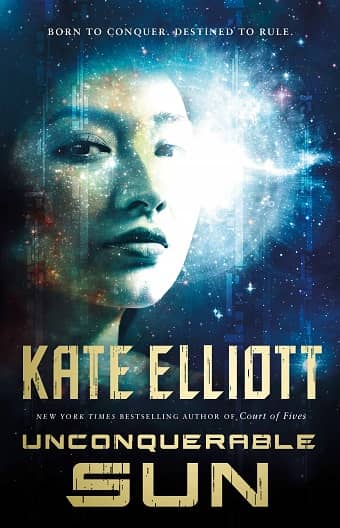 Kate Elliott is the pseudonym of writer Alis A. Rasmussen. As Rasmussen she published The Labyrinth Gate (1988) and The Highroad Trilogy science fiction novels (1990).
Those books didn't meet with a lot of commercial success however, and in 1992 Rasmussen rebooted her career, switching genres, changing publishers, and launching an epic fantasy series under the name Kate Elliot.
It worked. Kate Elliot's first novel Jaren (DAW, 1992) was a success, spawning three sequels, and the follow-up series Crown of Stars (DAW, 7 volumes, 1997-2006) proved even more popular. Kate Elliott has had a long and fruitful career as a fantasy writer over the past 28 years, with a number of top-selling series, including Crossroads, the Spiritwalker Trilogy, and the Court of Fives novels.
Her latest book, Unconquerable Sun, is a departure from epic fantasy and a return to her science fiction roots. It's been widely acclaimed, with a trifecta of starred reviews from Booklist ("A candidate for instant re-reading"), Publishers Weekly ("highly entertaining… will have readers clamoring for more"), and Kirkus Reviews ("A maelstrom of palace intrigue, interstellar back-stabbing, devious plots, treachery, blistering action, ferocious confrontations ― and a heroine for the ages.") Here's an excerpt from that rave review at Kirkus.
Clash of empires: an action-packed yarn loosely based on historical precedent, the sort of flawlessly plotted, high-tension science fiction Elliott's been threatening to write for some time.

The story precipitates us into a kind of modernized Chinese-flavored Alexandrian Macedonia, with a partially collapsed "beacon" network allowing instantaneous interstellar travel, commerce, and war…. Under queen-marshal Eirene, the matriarchal Republic of Chaonia has expelled the Yele and Phene occupiers. Eirene, unaccountably, grudges her daughter and heir, Princess Sun, a word of praise, no matter how stellar Sun's achievements. Sun's Companions are aides drawn from her relatives and the scions of powerful nobles… Sun must survive constant threats to her life and freedom while conducting battles, making plans, exposing traitors, controlling her wayward impulses, and asking the questions everybody else shrinks from… The upshot is a maelstrom of palace intrigue, interstellar back-stabbing, devious plots, treachery, blistering action, ferocious confrontations — and a heroine for the ages, tough, resourceful, loyal, intelligent, honorable, courageous, and utterly indomitable.

Enthralling, edge-of-your-seat stuff hurtling along at warp speed. Grab!
Read the complete review here.
[Click the images for space-opera sized versions.]
The Highroad Trilogy by Alis A. Rasmussen: A Passage of Stars, Revolution's Shore, and
The Price of Ransom (Bantam Spectra, 1990). Covers by Alan Gutierrez, Chris Moore, and Steve Youll
It's a pleasure to see Kate Elliott return to science fiction. Liz Bourke at Tor.com calls Unconquerable Sun "Space Opera with the rhythm of a thriller… gender-swapped young Alexander the Great in spaaaaaaaaaaace," and I gotta admit, that's a high-concept novel with instant appeal. I will definitely make space for this one on my calendar.
Unconquerable Sun was published by Tor Books on July 7, 2020. It is 528 pages, priced at $27.99 in hardcover and $14.99 in digital formats. It is the opening novel in The Sun Chronicles series. Read an excerpt at the Tor/Forge blog, or download a free digital preview here.
See all our recent New Treasures here.