Vintage Treasures: Cold Hand in Mine by Robert Aickman
Vintage Treasures: Cold Hand in Mine by Robert Aickman
Cold Hand in Mine by Robert Aickman. Berkley Books, June 1979. Cover by Wayne Barlowe
Robert Aickman was not part of my early genre education, and even today I've read only a handful of his stories. But he had a fine reputation; one that hasn't faded at all since he died in 1981. Today he's highly collectible, and his collections are tough to find, especially in the original paperback editions. I recently came across a copy of the 1979 Berkley edition of Cold Hand in Mine on eBay — tucked away in a lot of 11 SF paperbacks offered for $8 — and snapped it immediately.  I'm not sure I've ever seen a copy before.
Aickman has plenty of fans even today, and it's not hard to find modern commentary on his 40-year old paperbacks. That's fairly unusual (trust me on that). Will Errickson at Too Much Horror Fiction has one of my favorite recent reviews; here's an excerpt.
Another word I'd use to describe his stories is "uncanny," since they rarely adhere to generic conventions but instead move subtly around them, hinting at unconscious drives, highlighting how the real world and the real people in it may be illusions obscuring darker forces at work. Odd occurrences do not add up; the killer does not remove a mask and identify himself, because we aren't sure there's a killer at all, but only time and chance and that what might be called fate. You might not be surprised when I suggest Aickman is a bit of an acquired taste.

Aickman has long been a favorite of adventurous readers who search high and low for the forgotten or the overlooked, the challenging and the obscure; in recent years his reputation has grown and grown, and his books have been brought back into print by several publishers. After years of fruitless search myself, I recently bought, for a few dollars more than I generally like to pay for old paperbacks, a copy of Cold Hand in Mine (Berkley Books reprint 1979…) these are quiet, literate tales of creepiness; the front and back ad copy oversell it and I wonder of buyers' remorse back in the day…

These stories generate little heat; no melodrama, no generic twist, no jump scares, no slow dawning of horrible realization. When the "horror" occurs, rarely does it overly alarm or unduly concern anyone. The polite thing seems to be to ignore it… for that whisper of other worlds, or even an intimation that our perception of this world is flawed and incomplete, not up to the task, is simply intolerable. Characters view these things askance, never head-on.
Cold Hand in Mine contains eight long stories, all but one of them novelettes, including the World Fantasy Award-winning "Pages from a Young Girl's Journal." Here's the complete Table of Contents.
[Click the images for uncanny-sized versions.]
"The Swords" (The Fifth Fontana Book of Great Ghost Stories, 1969)
"The Real Road to the Church" (Nameless Places, 1975)
"Niemandswasser" (1975) — original
"Pages from a Young Girl's Journal" (The Magazine of Fantasy and Science Fiction, February 1973) — World Fantasy Award Winner
"The Hospice" (1975) — original
"The Same Dog" (The Magazine of Fantasy and Science Fiction, December 1974)
"Meeting Mr. Millar" (The Eighth Fontana Book of Great Ghost Stories, 1972)
"The Clock Watcher" (The Bedside Book of Horror, 1973)
Cold Hand in Mine was originally published in the UK by Gollancz in 1975, and reprinted in hardcover in the US in 1977 by Charles Scribner's Sons with a cover by the great Edward Gorey.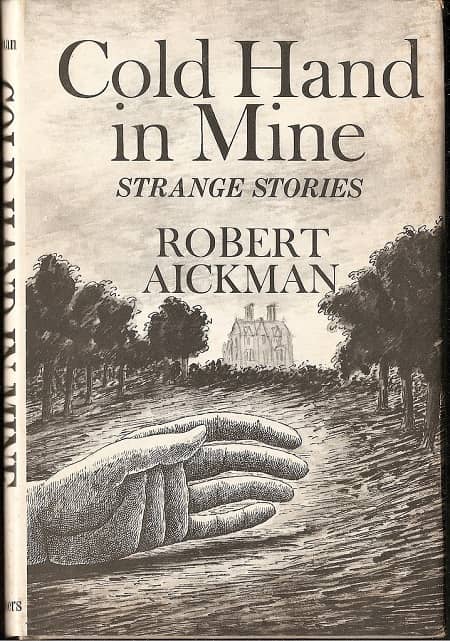 Cover by Edward Gorey
Diane Becker's The Short Review has a nice piece on Cold Hand in Mine by Mario Guslandi, which looks at each story in detail. Here's a sample.
Robert Aickman defined his unsettling and puzzling tales "strange stories", avoiding the terms "ghost" or "supernatural" because his literary enigmas were usually well rooted into reality, although often one of unfathomable and deceiving nature. His short fiction is collected in eight volumes, most of which are by now virtually unobtainable or items for a few wealthy collectors… Cold Hand in Mine… is one of the author's best known books, featuring eight classy stories which offer a fascinating showcase of Aickman's cryptic but enticing narrative style.

The opening piece, "The Swords" is one of the most typical and famous Aickmanesque tales, inscrutable and disquieting, blending eroticism, weirdness and the disturbing feeling that something terrible lurks behind our trivial daily existence… "The Hospice" is yet another puzzling tale featuring a lost motorist who finds shelter in an odd "hotel" where guests are encouraged to overeat and where much more than meets the eye is actually going on. Atmospheric and eerie, the story triggers a lingering feeling of deep unease… "Pages from a Young Girl's Journal" stands out as a clever but traditional, straightforward vampire story…

Lovers of contemporary dark fiction should not miss this splendid book, a fully enjoyable , unique reading experience providing full evidence that life's dark corners are much more scary than monsters, zombies and werewolves.
Will Errickson offers his own take on each of the stories as well. Here's a brief excerpt.
[In] "Niemandswasser"… A young German prince stays at his family's abandoned seasonal home on Lake Constance. Accompanied by a — friend? Lover? — the prince ponders the local legend of a dangerous something in a part of the lake called No Man's Water….

"Meeting Mr. Millar" was another high point of Cold Hand for me. A would-be literary pornographer relates his story of "a haunted man rather than of a haunted house."… At one point the narrator is wakened in the middle of the night and what follows is a terrific scene of a midnight creep through darkened halls to peer down a stairwell, the most "horror" moment in this whole book, and the climax, such as it is, horrifies as well…

"The Swords" is a major work (rightly collected in the 1987 anthology The Dark Descent, David G. Hartwell's towering anthology…), more immediately interesting and accessible perhaps to the general reader than some of Aickman's other more opaque tales. With its careful layering of social and sexual unease, set in a dreary English town that features a half-hearted amusement park, and the utterly perplexing ritual of the titular objects, "The Swords" is a haunting weird classic.
Read Errickson's complete review here.
The gorgeous Faber & Faber paperback editions (2016-17). Covers by Tim McDonagh
For those with a modern interest in Aickman, fret not — you don't have to spend a fortune to sample much of his finest work. Faber & Faber released paperback reprints of four of his best known books in 2016 and 2017, with beautiful covers by Tim McDonagh.
Cold Hand in Mine (368 pages, $14.95, August 9, 2016) — originally published 1975
The Unsettled Dust (384 pages, $14.95, April 11, 2017) — originally published 1990
Dark Entries (256 pages, $14.95, September 13, 2016) — originally published 1964
The Wine-Dark Sea (464 pages, $14.95, April 11, 2017) — originally published 1988
All four are still in print.
Cold Hand in Mine was published by Berkley Books in 1979. It is 275 pages, priced at $1.95. The cover is by Wayne Barlowe.
See all our recent Vintage Treasures here.