Reading in Transit
Reading in Transit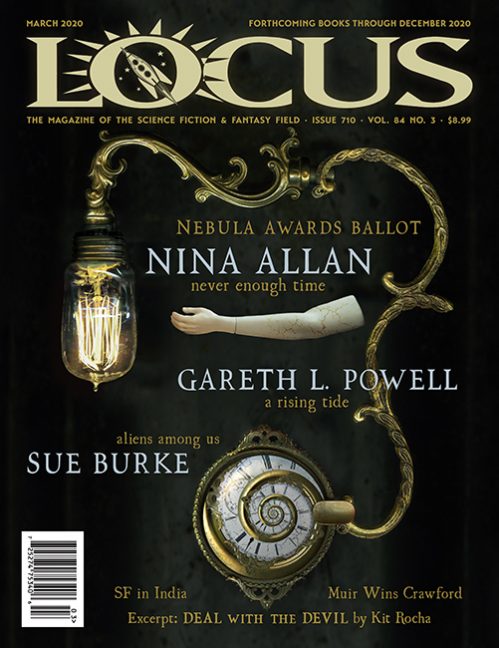 I'm currently in Washington Dulles airport, waiting for my connecting flight back to Chicago. I flew to Tampa on Friday to help my parents, who snowbird in Florida every winter, to pack up and return to Canada a month early. They weren't happy about it, but given the rate COVID-19 is upending things around the globe, they didn't have much choice.
Mission Accomplished. But because of flight cancellations, I'm stuck in Dulles with an 11-hour layover before I can get home. Thank God for Locus magazine, which I grabbed on my way out the door on Friday. As usual, the March 2020 issue is packed with reviews, columns, photos and articles of keen interest to science fiction and fantasy readers. There's even an excerpt from Kit Rocha's upcoming Tor novel Deal With the Devil. But the feature that I found most fascinating was the interview with Nina Allen, author of The Rift and The Dollmaker. She talks about Doctor Who, Vladimir Nabokov, and Graham Joyce, and delivers perhaps the most on-point description of writing a novel I've ever read:
That's what writing should entail — the fear and the terror and the joy of knowing that this problem is solvable, and there is only one person who can solve it, and it's me…. I am in competition primarily with myself, because other writers' talent should be nothing but a joy. When I see writers doing well and being better than me, that's a joy and a goad and a challenge — not in any way negative. It's wonderful. Nothing pleases me more than seeing people write brilliantly.
The March 2020 issue of Locus is still available at finer bookstores, and on the Locus website. Individual copies are $8.99. If you haven't tried the magazine yet, you don't know what you're missing. Check it out.