The Golden Age of Science Fiction: Debut Novels
The Golden Age of Science Fiction: Debut Novels
Taking a break from award winners, several authors published their first novels in 1979.  Some of these authors had previously published short stories and one notable one was active in radio and television and wound up winning several awards for work done in 1979 (Douglas Adams).  Here is a look at some of the debut novels of 1979.
Perhaps the biggest splash for a debut novel in 1979 was Douglas Adams's The Hitchhiker's Guide to the Galaxy, although it was really a novelization and abridged version of his radio show of the same title, which had previously aired in 1978. The novel, of course, sparked a series of five novels by Adams, plus one more by Eoin Colfer, and adaptations for stage, television, screen, and upcoming, a streaming service. A satire on the tropes of science fiction, the absurdity of the situations and responses in the books hit a nerve with the public and have expanded beyond the genre, with people who haven't read science fiction at least recognizing that the number 42 is a cultural touchstone.
In 1977, Jeanne Robinson collaborated with her husband, Spider Robinson, on the novella "Stardance," which earned the couple the Nebula, Hugo, and Locus Awards in 1978. In 1979, they published a novel version, also called Stardance, which would prove to be the first of a trilogy which included Starseed and Starmind. Primarily a choreographer, Robinson's only published fiction were these collaborations with her husband, who had published his own first novel, Telempath, in 1976
Eric Iverson's Wereblood appeared from Belmont Towers, as did its sequel Werenight, in the same year. Iverson went on to publish several short stories before he published his next series under his own name, Harry Turtledove. Turtledove has noted that his editor at Belmont Towers didn't think his own name would sell books and foisted the Iverson pseudonym on him. When he sold his Videssos cycle of Lester del Rey, the editor demanded that he revert to his own name. Turtledove would eventually republish these two thin books as one volume, Werenight, and subsequently published additional sequels, The Prince of the North, The King of the North, and Fox and Empire.
In the afterword to Thieves' World, Robert Asprin discussed the creation of the project and noted that Lynn Abbey, who was present, was "saying very little." The decision to only include established authors concerned Abbey because although she was shopping her manuscript for Daughter of the Bright Moon, it had yet to find a publisher. Asprin assured her she had a place in the anthology and Daughter of the Bright Moon would be published in July, 1979, three months before Thieves' World appeared with her story "The Face of Chaos." Daughter of the Bright Moon would be the first novel of an eventual trilogy following the warrior-healer Rifkind who makes a life for herself in Dro Daria.
Tom De Haven's debut novel, Freaks' Amour is set in a world in which a nuclear accident, known as Caliban's Night, has caused widespread mutations. De Haven explores the lives and relationships of the mutants as they attempt to raise money to appear more normal and the legal ramifications of what they are doing.
Greg Bear also published his first two novels in 1979. The one to hit shelves first was Hegira, which explores a universe with a cyclic nature as it is being seeded by the remnants of the old universe. Bear plays around with vast artificial living spaces that are governed by artificial intelligences and offers a quasi-guided history for his characters who go on a quest.
David Drake had already been publishing for short stories for several years by 1979, but that year marked the debut of his first book, Hammer's Slammers, a collection of linked stories set in his universe. Drake provides original interstitial pieces to link them, as well as essays that offer additional background to his world. Eventually, he expanded the series to include numerous stories and novels which were most recently collected in the three volume omnibus series The Complete Hammer's Slammers, published by Baen between 2006 and 2007.
Last month, Diane Duane was the guest of honor at the Worldcon in Dublin. Her first novel, The Door Into Fire was published in 1979. The novel would become the five volume Tale of the Five. While Duane has become known for her YA novels such as her Young Wizards series as well as several Star Trek tie-in novels, The Door Into Fire created a world in which polyamory and same-gender relationships were a key part of the world and the story. Herewiss is the first man able to have the power of the blue flame, which he must figure out to master, even as he can use lesser magics.
Ardath Mayhar's debut novel How the Gods Wove in Kyrannon describes the Raithes, a tribe of horsemen forced from their ancestral home. Mayhar focuses, in turn, on each of the Raithe survivors as they find allies in an attempt to reunite with their fellow tribesmen. The book would kick of a four volume series of Tales of the Triple Moons. Mayhar would go on to write a sequel to H.Beam Piper's Little Fuzzy as well as several other stand-alone novels.
Other authors with debut novels in 1979 include Jayge Carr (Leviathan's Deep), Hugh B. Cave (Legion of the Dead), Dean Ing (Soft Targets), David Langford (An Account of a Meeting with Denizens of Another World), Richard Laymon (Friday Night in Beast House), Kevin O'Donnell, Jr. (Bander Snatch), and Jim Young (The Face of the Deep).
---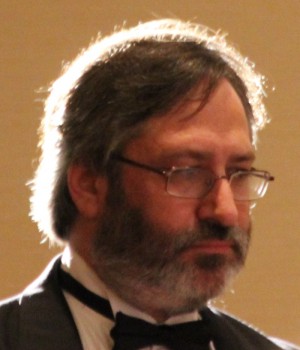 Steven H Silver is a sixteen-time Hugo Award nominee and was the publisher of the Hugo-nominated fanzine Argentus as well as the editor and publisher of ISFiC Press for 8 years. He has also edited books for DAW, NESFA Press, and ZNB. He began publishing short fiction in 2008 and his most recently published story is "Webinar: Web Sites" in The Tangled Web. His most recent anthology, Alternate Peace was published in June. Steven has chaired the first Midwest Construction, Windycon three times, and the SFWA Nebula Conference 6 times, as well as serving as the Event Coordinator for SFWA. He was programming chair for Chicon 2000 and Vice Chair of Chicon 7.