John DeNardo's Adventures in Short Fiction
John DeNardo's Adventures in Short Fiction
Last month I checked in with John DeNardo, the most well-informed man in science fiction, to get his take on the Best Science Fiction & Fantasy in June. I posted a brief summary on June 26, and John dropped by to leave the following in the Comments:
Oh, and speaking of short fiction, my article on cool, recent short fiction reads is now up, too.

Adventures in Short Fiction: Supernatural Detectives, Civil War Airships, Harvesting the Dead, and Reality Shows with Guns.
It's tough to resist a resist an article with a title like that. (Go ahead and try.) When you're too busy to keep up with the flood of new novels (and virtually all of us are, unless your name is John DeNardo), but you want keep tabs on what's going on, short fiction will keep you up-to-date on who's doing really innovate and exciting work.
Where can you find the best genre short fiction these days? John recommends several online publications, including Sean Wallace's magazine of horror and dark fantasy, The Dark, John Joseph Adams' SF and fantasy magazine Lightspeed, and Mike Resnick's Galaxy's Edge, plus recent anthologies such as Ken Liu's Broken Stars, Paula Guran's Mythic Journeys: Retold Myths and Legends, and Wastelands: The New Apocalypse edited by John Joseph Adams. Here's some excerpts from John's comments.
[Click the images for bigger versions.]
The Dark #49 edited by Silvia Moreno-Garcia, Michael Kelly, and Sean Wallace.
A much darker tale can be found in the latest issue of The Dark. "The Wilderling" by Angela Slatter is about a married woman who lives on the edge of the woods. While her husband goes to work, LP tries to busy herself with one hobby after another. The hobbies, fleeting though they may be, at least keep her dark thoughts at bay—like morose fantasies about silencing her judgmental mother once and for all. LP's dark side comes to the fore when she spies a feral child emerging from the woods outside her house. Slatter's delivery is one that creeps up on you, becoming increasingly but subtly unsettling as it progresses, so that by the time you near the end of the story, you don't know which way it's going to go.
Check the the complete The Dark #49 for free here, and buy a monthly subscription for just $1.99 here.
Lightspeed Magazine #109 (June 2019) edited by John Joseph Adams.
Lightspeed magazine #109 features an interesting story called "The Harvest of a Half-Known Life" by G.V. Anderson, which takes place in a ruinous land that suffers from intense waves of heat called sunsears. One of the people's sacred customs is to harvest the bodies of the recently-deceased to recover vital resources. Their minds, meanwhile, are "preserved" through books passed along to their families. The story opens with the narrator, Gwinaelle, witnessing the harvesting of her deaf mother, whose last message is interpreted by the narrator as "Follow the Ghosts." Gwinaelle, like her mother before her, lives her life among the ruins, apart from the townspeople, until the necessity of more food draws her back. The distance that Gwinaelle feels towards the townspeople mimics the distance she felt with her mother. The story asks us to wonder how much we really know each other, and how we can find a purpose. Gwinaelle gives meaning to her life when she finally follows her mother's dying words.
Read the June issue of Lightspeed here. You can buy individual issues for just $3.99 each, and a one-year sub is only $35.88.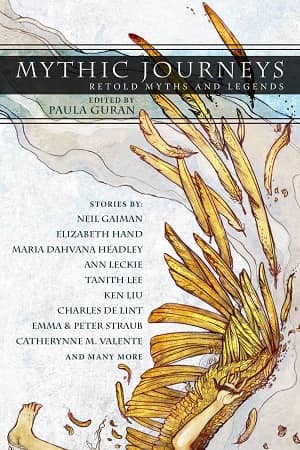 Mythic Journeys: Retold Myths and Legends edited by Paula Guran (Night Shade, 456 pages, $15.99 paperback/$9.99 digital, May 14, 2019)
Mythic Journeys is an anthology predominantly composed of reprints of stories with a common theme: retellings of myths… Mythic Journeys delivers twenty-seven fresh takes on classic themes that don't feel like retreads. The lead story, "Lost Lake" by Emma and Peter Straub, retells the story of Persephone, daughter of Zeus and Demeter… Persephone must divide her time between home (in the summer months) and the underworld (in the winter months). In "Lost Lake," a similar arrangement exists with Eudora, the young daughter of divorced parents. For six months around Summer, Eudora spends time in Fairlady with her mother, whose ever-pleasant demeanor begins to wear on Persephone. During the other six months, Eudora spends time with her father in Lost Lake, a dark town with secrets. Although the story appears to take place in modern times, it retains the aura of its mythical origins. It just feels like you're reading a myth, albeit a more updated one about child custody since Eudora must eventually decide on her permanent home.
Check out the impressive table of contents for Mythic Journeys at the Night Shade website here.
Wastelands: The New Apocalypse edited by John Joseph Adams (Titan Books, 528 pages, $14.95 paperback/$9.99 digital, June 4, 2019)
Adams has selected some of the best apocalyptic fiction to found anywhere… The New Apocalypse focuses on more recent apocalyptic fiction, collecting thirty-four short fiction gems released in the last several years (twenty reprints + 14 original tales new to this anthology) and proves that even subgenres need not become stale. Take, for example, the opening story by Elizabeth Bear, "Bullet Point," so named because Isabella the narrator has a penchant for bullet-listing things that no longer exist in the new world. It's been two weeks since everyone on the planet has seemingly disappeared, or at least that's how it looks to Isabella who has been wandering the streets of a vacant Las Vegas. Her world changes yet again when she meets a man named Ben and discovers that some things—like dangerous attitudes—will never die. Meanwhile, in "The Plague" by Ken Liu, it's fifty years after nanobots have infected most of humanity and altered them and the environment. The rest, huddled in the safety of domes, see the infected as inhuman because of all the changes they've undergone. Here, a man from the dome dons a protective suit to visit the people on the outside. The story serves as a stark reminder that what we consider "normal" is all a matter of perspective.
Get all the details on Wastelands: The New Apocalypse at John Joseph Adams' website, and read Jared Shurin's detailed review at Tor.com, Wastelands 3: The New Apocalypse Presents a Distinctly American Perspective on the End of the World.
See John DeNardo's complete breakdown in the best in new short fiction here.