Carol Emshwiller wins the Cordwainer Smith Rediscovery Award
Carol Emshwiller wins the Cordwainer Smith Rediscovery Award
Author Carol Emshwiller, who died in February of this year at the age of 97, has won the Cordwainer Smith Rediscovery Award, which honors overlooked and neglected science fiction and fantasy writers who deserve to be discovered by modern readers.
I met Carol only a couple of times, always at the World Fantasy Convention. I'm pretty sure she was in her 90s both times we met. She was friendly, approachable, and absolutely charming. Many writers have a late flowering in their career; Carol, who was the wife of Ed Emshwiller, one of the most popular and prolific SF cover artists of the 50s and 60s, and who famously was the model for most of the beautiful women in his paintings, published her first stories in 1955, but wrote the majority of her substantial body of short fiction from 1985 – 2011, after she turned 60. She published the first of her four SF novels, Carmen Dog, in 1988, when she was 67.
It took far too long for Carol to be acknowledged as a serious writer, but it eventually happened. Her short story "Creature" won a Nebula Award in 2002; she won again for "I Live With You" in 2005. Her 2002 novel The Mount was nominated for a Nebula and won the Philip K. Dick Award. Her 1990 collection The Start of the End of It All won the World Fantasy Award, and she received the World Fantasy Award for Life Achievement in 2005.
[Click the images to embiggen.]
Some of Ed Emshwiller's depictions of Carol on magazine and book covers in the 50s and 60s
See a gorgeous gallery of Ed Emshwiller's science fiction artwork, much of it featuring Carol, here.
Carol Emshwiller's SF & fantasy novels are Carmen Dog (1988), The Mount (2002), Mister Boots (2005), and The Secret City (2007). Her novels were well received — including a Tiptree nomination for Carmen Dog, and she placed second on the ballot for the Locus Award for Best Young Adult Book for Mister Boots — but she was known chiefly for her short fiction, which was collected in Joy in Our Cause (1974), Report to the Men's Club (2002), I Live with You (2005), In the Time of War and Other Stories of Conflict/Master of the Road to Nowhere and Other Tales of the Fantastic (2011), and two volumes of The Collected Stories of Carol Emshwiller (2011 and 2016), from Nonstop Press.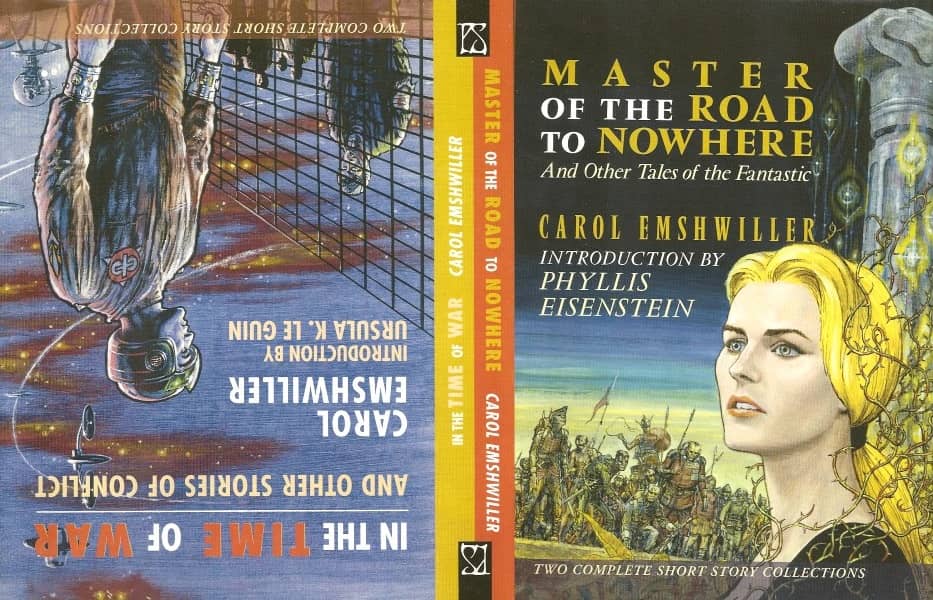 The 2-sided collection In the Time of War and Other Stories of Conflict/Master of the Road to Nowhere and Other Tales of the Fantastic
(PS Publishing, 2011). Covers by Ed Emshwiller. Yes, that's probably Carol in the painting.
Carol's fame has only grown over the last few years, as more and more critics have come to recognize her as a major contributor to the genre. Ursula K. Le Guin called her "a major fabulist, a marvelous magical realist, one of the strongest, most complex, most consistently feminist voices in fiction."
The judges for the Cordwainer Smith Rediscovery Award this year were Barry Malzberg, Mike Resnick, and Robert J. Sawyer. The award was announced July 12, 2019 during Readercon 30 in Quincy, MA.
The Cordwainer Smith Rediscovery Award was named after Paul Linebarger, who used the pen name "Cordwainer Smith" to write science fiction from 1950 – 1966. The Award was inaugurated in 2001 and has been given to such luminaries as R.A. Lafferty, Leigh Brackett, Stanley G. Weinbaum, Katherine MacLean, Fredric Brown, Clark Ashton Smith, and Judith Merril. Here's the complete list of recipients.
Olaf Stapledon, 2001
R.A. Lafferty, 2002
Edgar Pangborn, 2003
Henry Kuttner and C.L. Moore, 2004
Leigh Brackett, 2005
William Hope Hodgson, 2006
Daniel F. Galouye, 2007
Stanley G. Weinbaum, 2008
A. Merritt, 2009
Mark Clifton, 2010
Katherine MacLean, 2011
Fredric Brown, 2012
Wyman Guin, 2013
Mildred Clingerman, 2014
Clark Ashton Smith, 2015
Judith Merril, 2016
Seabury Quinn, 2017
Frank M. Robinson, 2018
Carol Emshwiller, 2019
The Award's website is maintained by Smith's daughter; it has not been updated since 2012, but it contains plenty of information about the winners prior to that.
See all our recent News posts here.