New Treasures: Last Tango in Cyberspace by Steven Kotler
New Treasures: Last Tango in Cyberspace by Steven Kotler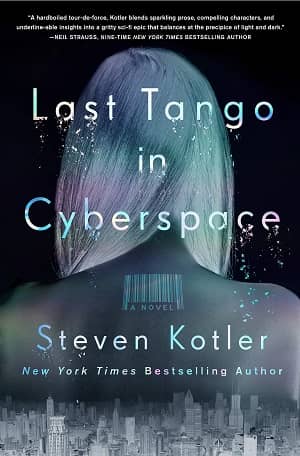 Twenty years ago Steven Kotler's debut The Angle Quickest For Flight, from small press Four Walls Eight Windows, made a minor splash. A science fiction novel about book thieves, an ancient Kabbalistic text, and a quest "Indiana Jones would have signed up for in a second had he known about it" (Randall Cohan), it was praised by John Barth as "a brilliant novel."
In the intervening decades Kotler has become a New York Times bestselling author, but with Last Tango in Cyberspace he returns to science fiction for the first time with a near-future thriller about the evolution of empathy. Library Journal proclaims it "A fascinating read. Highly recommend," and Booklist calls it "an intriguing blend of detective story and social critique… a vivid picture of near-future earth." Here's the description.
Hard to say when the human species fractured exactly. Harder to say when this new talent arrived. But Lion Zorn is the first of his kind―an empathy tracker, an emotional soothsayer, with a felt sense for the future of the we. In simpler terms, he can spot cultural shifts and trends before they happen.

It's a useful skill for a certain kind of company.

Arctic Pharmaceuticals is that kind of company. But when a routine em-tracking job leads to the discovery of a gruesome murder, Lion finds himself neck-deep in a world of eco-assassins, soul hackers and consciousness terrorists. But what the man really needs is a nap.

A unique blend of cutting-edge technology and traditional cyberpunk, Last Tango in Cyberspace explores hot topics like psychology, neuroscience, technology, as well as ecological and animal rights issues. The world created in Last Tango is based very closely on our world about five years from now, and all technology in the book either exists in labs or is rumored to exist. With its electrifying sentences, subtle humor, and an intriguing main character, readers are sure to find something that resonates with them in this groundbreaking cyberpunk science fiction thriller.
Last Tango in Cyberspace was published by St. Martin's Press on May 14, 2019. It is 330 pages, priced at $27.99 in hardcover and $14.99 in digital formats. The cover was designed by Ervin Serrano. Read an excerpt here, or listen to an audio sample from the book here.