New Treasures: Finder by Suzanne Palmer
New Treasures: Finder by Suzanne Palmer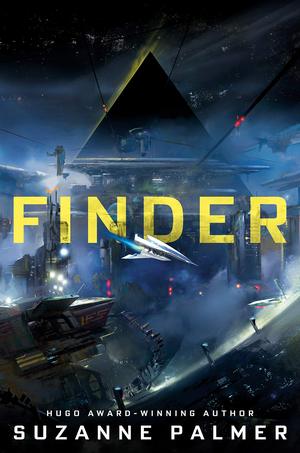 Suzanne Palmer has become a familiar face in Asimov's Science Fiction, with over a dozen stories there in the last decade. Her 2018 Clarkesworld novelette "The Secret Life of Bots" won a Hugo Award, and she's twice been a finalist for the Theodore Sturgeon Memorial Award.
Her debut novel Finder features Fergus Ferguson, interstellar repo man and professional finder, in an action-packed sci-fi caper that Maria Haskins at the B&N Sci-Fi & Fantasy Blog calls "a Ridiculously Fun Science Fiction Adventure… a rollicking ride from a hardscrabble space colony at the outer edge of the galaxy to the conflict-ridden settlements of colonized Mars and back again, with stops on the way at an alien spaceship and a holiday planet." It's available now in hardcover from DAW.
Fergus Ferguson has been called a lot of names: thief, con artist, repo man. He prefers the term finder.

His latest job should be simple. Find the spacecraft Venetia's Sword and steal it back from Arum Gilger, ex-nobleman turned power-hungry trade boss. He'll slip in, decode the ship's compromised AI security, and get out of town, Sword in hand.

Fergus locates both Gilger and the ship in the farthest corner of human-inhabited space, a backwater deep space colony called Cernee. But Fergus' arrival at the colony is anything but simple. A cable car explosion launches Cernee into civil war, and Fergus must ally with Gilger's enemies to navigate a field of space mines and a small army of hostile mercenaries. What was supposed to be a routine job evolves into negotiating a power struggle between factions. Even worse, Fergus has become increasingly — and inconveniently — invested in the lives of the locals.

It doesn't help that a dangerous alien species Fergus thought mythical prove unsettlingly real, and their ominous triangle ships keep following him around.

Foolhardy. Eccentric. Reckless. Whatever he's called, Fergus will need all the help he can get to take back the Sword and maybe save Cernee from destruction in the process.
Finder was published by DAW on April 2, 2019. It is 400 pages, priced at $26 in hardcover and $12.99 in digital formats. The cover is by Kekai Kotaki. Read the first ten pages of Chapter One here, and see all our recent New Treasures here.