The Golden Age of Science Fiction: Elayne Pelz
The Golden Age of Science Fiction: Elayne Pelz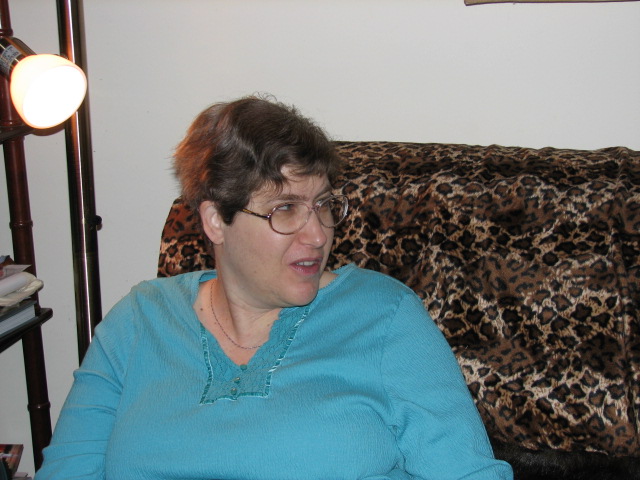 Photo by Chaz Boston-Baden
The E. Everett Evans/Paul Freehafer Award is named after two members of the Los Angeles Science Fantasy Society (LASFS) and is presented for service to the club at Loscon.
E. Everett Evans, who also went by the nom de fan Triple E or Tripoli, was the first member of LASFS to make the transition from fan to professional author while he was an active member. Evans was born in 1893. He published his story "Guaranteed" in the January 1948 issue of Startling Stories. His first novel, The Planet Mappers, appeared in 1955. He published more than two dozen stories as well as a collaboration with E.E. "Doc" Smith before Evans's death in 1958. In addition to the Evans Freehafer Award, the Big Heart Award was established in his honor and named for him from 1959 until 2006, when it was renamed in honor of Forrest J Ackerman.
Paul Freehafer was an active fan within LASFS who helped carry club projects to completion during his short time with the club. Born in 1918 in Idaho, he moved to Los Angeles to attend Cal Tech. Freehafer discovered science fiction when he was 13, fandom the following year, and joined the Science Fiction League in 1934. From 1939-1941, Freehafer published the fanzine Polaris and was noted for avoiding many of the trends and fads that fans of the era often got caught up in, such as Esperanto, simplified spelling, etc. He is often credited with maintaining unity among the club's various factions and keeping the club together. Knowing he was ill, Freehafer resigned his directorship in 1942 and returned to Idaho. In 1944, when he was 27 years old, Freehafer suffered a fatal heart attack, becoming the first LASFS member to die. Following his death, Ackerman published the tributezine Polaris: Paul Freehafer, Only the Good Die Young. In addition to the Evans/Freehafer Award, for many years, one of the buildings at the LAFS Clubhouse was named Paul Freehafer Hall. Remembered in these ways 75 years after his death, Freehafer embodies the LASFS ideal "Death will not release you."
The committee of judges is made up of the winners of the award for the three previous years. In 1980, the recipient of the award was selected by Jerry Pournelle, Jim Glass, and Louis E.W. Gray. Nobody knows who the honoree will be until it is announced. In 1980, Loscon 7 was held at the Sheraton-Anaheim Hotel from November 28-30. The winner of the Evans/Freehafer Award was Elayne Pelz, whose husband, had previously won the award twice.
Elayne Pelz was born Elayne Yampolsky in Los Angeles, California. In 1974, she married Bruce Pelz, who had long been active in Los Angeles fandom and Elayne also entered into a life of fandom, becoming active in the Los Angeles Science Fantasy Society (LASFS) and con-running. She was elected treasurer for the Institute for Specialized Literature in 1975.
Elayne joined the board of directors of LASFS in 1980, and two years later she also joined the board of directors for Southern California Institute for Fan Interests (SCIFI).
In 19833, Elayne was a guest of honor at LepreCon 9. She, along with Bruce, was a GoH at Loscon 13th in 1986 and Kubla Khansequences in 1988. Elayne was also a solo fan GoH at Westercon 48 in Portland, Oregon in 1995. She received a second Evans Freehafer Trophy in 2006, becoming one of only four people to receive the award multiple times (along with Bruce Pelz, Bob Null, and Mike Donahue).
When Bruce died in 2002 while chairing Congarie, the 55th Westercon, Elayne took over the position from him.  She has continued to be active in a variety of conrunning roles, often found behind the registration table.  She has worked of Worldcons, Loscon, Gallifrey One, Anime cons, this year' SFWA Nebula Conference, and many more, making her presence known.
---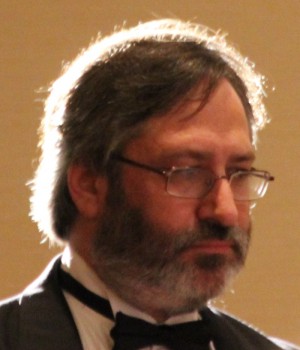 Steven H Silver is a sixteen-time Hugo Award nominee and was the publisher of the Hugo-nominated fanzine Argentus as well as the editor and publisher of ISFiC Press for 8 years. He has also edited books for DAW and NESFA Press. He began publishing short fiction in 2008 and his most recently published story is "Webinar: Web Sites" in The Tangled Web. Steven has chaired the first Midwest Construction, Windycon three times, and the SFWA Nebula Conference 6 times, as well as serving as the Event Coordinator for SFWA. He was programming chair for Chicon 2000 and Vice Chair of Chicon 7.