New Treasures: Occupy Me by Tricia Sullivan
New Treasures: Occupy Me by Tricia Sullivan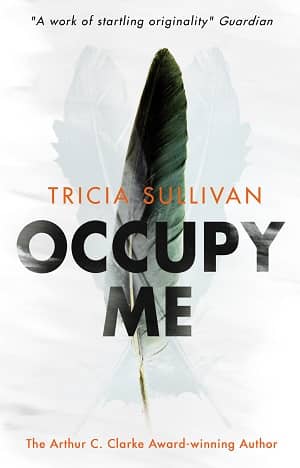 Tricia Sullivan is the author of Lethe (1995), a Locus Award nominee for Best First Novel, Someone to Watch Over Me (1997), and the Clarke Award-winning Dreaming in Smoke (1998). Her latest novel is something different — the tale of an angel on Earth who gets caught up in a tale of international intrigue, and much more. Here's the description.
A woman with wings that exist in another dimension. A man trapped in his own body by a killer. A briefcase that is a door to hell. A conspiracy that reaches beyond our world. Breathtaking SF from a Clarke Award-winning author.

Tricia Sullivan has written an extraordinary, genre defining novel that begins with the mystery of a woman who barely knows herself and ends with a discovery that transcends space and time. On the way we follow our heroine as she attempts to track down a killer in the body of another man, and the man who has been taken over, his will trapped inside the mind of the being that has taken him over.

And at the centre of it all a briefcase that contains countless possible realities.
It was Mahvesh Murad's Tor.com review of the original Gollancz UK edition that first intrigued me. Here's the money quote.
Occupy Me is full to bursting with intriguing ideas and concepts, philosophy and complex physics. It's high concept and heady. It's also got a lot of humour… Sullivan takes the whole 'strong female protagonist' to a literal level too, giving Pearl massive physical strength (she can lift a truck!), the ability to fly and pure, brute will to survive and make things right. She's a likeable character, easy to relate to even though her origins are mysterious and shrouded.

Occupy Me is… clever and complex and forces you to think outside of your comfort zone. It's a thriller, complete with international hijinks, corporate corruption and an evil megalomaniac. What it isn't is a standard paranormal fantasy featuring angels — it's much more compelling in its originality.
Occupy Me was published by Titan Books on September 4, 2018. It is 361 pages, priced at $14.95 in trade paperback and $8.99 in digital formats. The cover is by Sidonie Beresford-Browne. See all our recent New Treasures here.