Birthday Reviews: Jack Skillingstead's "Thank You, Mr. Whiskers"
Birthday Reviews: Jack Skillingstead's "Thank You, Mr. Whiskers"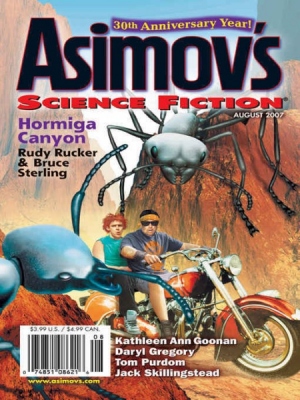 Jack Skillingstead was born on October 24, 1955.
Skillingstead was nominated for the Theodore Sturgeon Memorial Award in 2004 for his story "Dead Worlds" and in 2014 his novel Life on the Preservation was a nominee for the Philip K. Dick Award. He has collaborated with Burt Coourtier. Skillingstead has been married to author Nancy Kress since 2011.
"Thank You, Mr. Whiskers" was originally published in the August 2007 issue of Asimov's Science Fiction, edited by Sheila Williams. It has since been reprinted in Skillingstead's collection Are You There and Other Stories, published by Golden Gryphon in 2009 and subsequently reprinted by Fairwood Press.
Hadley Yeager is something of an anomaly in science fiction stories, an older woman. Living alone after the death of her husband, Franklin, Hadley no longer has a firm grasp on reality. Her memory is fading, she is unsure of where she is or what is going on around her, and fear of the outside world is making her suspicious of the young boy who seems to be intent on checking up on her and making sure she is okay.
One day, she notices a new mailbox, where she doesn't remember seeing one before. Accidentally taking the mail from that box, she discovers a note that applies directly to her. From that point on the extra mailbox helps guide her and rejuvenate her. In addition to reminding her where she hid grocery money, the messages in the mailbox begin offering her other advice and help, removing the suspicious boy, allowing her to reverse her aging, and living a youthful life of excess. Eventually, Hadley begins to wonder about the mailbox's origins and motives.
While Skillingstead implies that the mailbox is some sort of alien entity, it is also possible, and not entirely refuted by the text, that Hadley has fallen further into her dementia, only imagining the extra mailbox and it impact on her life. Eventually, Hadley begins to rebel against the various boons the mailbox grants, questioning the reason for them and wondering if it would be better for her to return to the blissful state of dementia and ultimately death she was originally heading for.
Reprint reviewed in the collection Are You There and Other Stories, by Jack Skillingstead, Golden Gryphon Press, 2009.
---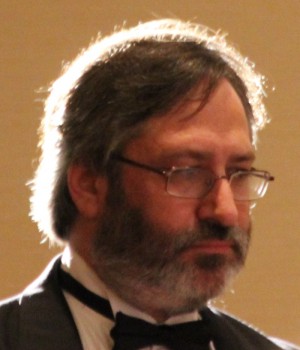 Steven H Silver is a sixteen-time Hugo Award nominee and was the publisher of the Hugo-nominated fanzine Argentus as well as the editor and publisher of ISFiC Press for 8 years. He has also edited books for DAW and NESFA Press. He began publishing short fiction in 2008 and his most recently published story is "Webinar: Web Sites" in The Tangled Web. Steven has chaired the first Midwest Construction, Windycon three times, and the SFWA Nebula Conference 6 times, as well as serving as the Event Coordinator for SFWA. He was programming chair for Chicon 2000 and Vice Chair of Chicon 7. He has been the news editor for SF Site since 2002.