Birthday Reviews: Lawrence Schimel's "Taking Action"
Birthday Reviews: Lawrence Schimel's "Taking Action"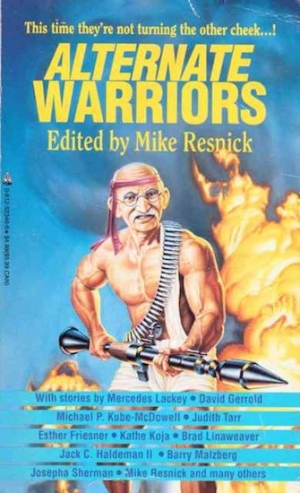 Lawrence Schimel was born on October 16, 1971.
Schimel won the Rhysling Award for Long Poem in 2002 for "How to Make a Human." In 2007, he shared the Gaylactic Spectrum Award for Other Work with Richard Labonte for their anthologies The Future Is Queer. Schimel has also been nominated for the James Tiptree Jr. Award and the Lambda Award. In addition to his collaboration with Labonte, he has edited multiple anthologies with Martin H. Greenberg and has collaborated on fiction with Mike Resnick, Billie Sue Mosiman, and Mark A. Garland. He has, on occasion, published using the pseudonym David Laurents.
Schimel published "Taking Action" in Mike Resnick's anthology Alternate Warriors in 1993. The story has never been reprinted.
One of the issues with the anthology Alternate Warriors is that many of the individuals who became the focus of stories were known for their advocacy of non-violence. Someone who advocates peaceful means to achieve their goals must change so much to become a warrior that they are practically unrecognizable. Schimel manages to overcome that issue in "Taking Action" by offering a plausible reason for Martin Luther King, Jr. to use violence in his campaign for civil rights.
In this story, King is plagued by visions of the future, although he doesn't have specifics. He can see that his fight for equality will be long with many setbacks, although he doesn't always know how to interpret his visions, such as the Clarence Thomas/Anita Hill hearings. When he is pulled over immediately after having a vision of the Rodney King beating, he doesn't know if they image of a cop beating King refers to himself or someone else and he responds by attacking the police officer in a moment of fear. Although King openly continues to espouse non-violence, in the background, he not only condones but promotes violence to achieve his ends, joining with several other black leaders who felt that non-violence wasn't necessarily the answer.
Be providing an explanation for King's decision to espouse violence, even if he only does so behind the scenes, Schimel explores how individuals can make decisions which seem to go against their nature based on their fears and chance encounters. Schimel's King appears to be the same in general, but his behind-the-scenes activities do have a significant impact on the civil rights movement, leading to a world which is different from the one he sees in his visions.
Reviewed in its only appearance in the anthology Alternate Warriors, edited by Mike Resnick, Tor, 1993.
---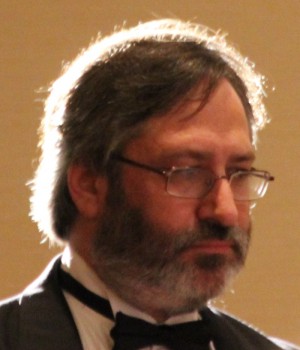 Steven H Silver is a sixteen-time Hugo Award nominee and was the publisher of the Hugo-nominated fanzine Argentus as well as the editor and publisher of ISFiC Press for 8 years. He has also edited books for DAW and NESFA Press. He began publishing short fiction in 2008 and his most recently published story is "Webinar: Web Sites" in The Tangled Web. Steven has chaired the first Midwest Construction, Windycon three times, and the SFWA Nebula Conference 6 times, as well as serving as the Event Coordinator for SFWA. He was programming chair for Chicon 2000 and Vice Chair of Chicon 7. He has been the news editor for SF Site since 2002.