One Story Is Worth 1000 Ideas; Or, How Dhulyn and Parno Could Come Through A Portal Near You
One Story Is Worth 1000 Ideas; Or, How Dhulyn and Parno Could Come Through A Portal Near You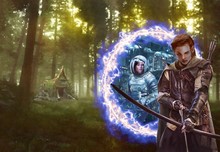 Those crazies over at Zombies Need Brains have launched another Kickstarter to fund their next set of anthologies. As many of you already know, ZNB has published 2 or 3 anthologies a year for the past several years, using Kickstarters as a way to encourage readers to pre-order the books – and, not incidentally, to receive some pretty nifty special bonus gifts. This year's project includes Temporally Deactivated, Alternate Peace, and Portals, to which I've been asked to  contribute a story. There's the artwork over on the right. Check out the descriptions and incentives here.
I'm particularly happy about this opportunity, because I've had an idea for a story that would fit the theme of portals for quite some time. I just haven't had a compelling reason (like a deadline) to write it.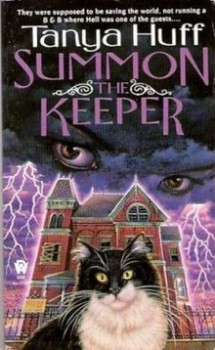 I can tell you exactly where I got the idea for this story. When I read Tanya Huff's Summon the Keeper it immediately struck me as a great universe for short stories. Those of you who are familiar with the book know that it's set in the Elysian Fields Guest House, where the clientele is definitely more "un" than "human," where weird things happen due to a … well, there's not much more I can say that isn't a spoiler, so you'll have to read it yourself. But I can talk about the elevator, because nothing in the story line of the novel is affected by it, it's just part of the overall setting/background.
Here's the thing: Depending on some mechanical cues (inner or outer door opened first, which floor you got in on, etc.) the elevator doesn't always open on one of the other floors. Sometimes it opens on a beach, sometimes it opens on what is clearly the bridge of the Enterprise, though it's not specifically named.
I'll bet you just came up with the same thought I did. What a great setting for a shared universe anthology. Sure, strange guests can and do walk in off the street, but the elevator adds another dimension entirely, pun intended. With the elevator a storyteller can literally introduce any character from anywhere. What a great anthology that would have been.
I even had an idea for the story I could have contributed. A story in which my sword-and-sorcery characters, Dhulyn Wolfshead and Parno Lionsmane, get to come to our world. Or at least this particular facsimile thereof. That's right, I could bring them here through the elevator. I even had a fair notion of who or what they'd be chasing into our world, but sadly my Dhulyn and Parno idea (not yet a complete story) sat sad and lonely in my "new Ideas" folder.
Until, that is, ZNB's proposed new anthology, Portals. Here's my excuse to write this story, and my chance to get this story published. Why don't you help me out? I only have 5 or 6 other things to do, go ahead, give me another deadline.
---
Violette Malan is the author of the Dhulyn and Parno series of sword and sorcery adventures, as well as the Mirror Lands series of primary world fantasies. As VM Escalada, she writes the Faraman Polity series, including Halls of Law and Gift of Griffins. Like her on Facebook, and follow her on Twitter @VioletteMalan.