Future Treasures: Bloody Rose by Nicholas Eames
Future Treasures: Bloody Rose by Nicholas Eames
The books I select to showcase here don't always connect with readers. And that's okay; I try to highlight books that aren't getting enough attention, and sometimes that means they have a niche appeal. But there are plenty of titles that do connect, and one of them was last year's Kings of the Wyld, the first fantasy novel by Nicholas Eames.
It wasn't just Black Gate readers that responded positively. Publishers Weekly called it a "Brilliant debut… emotionally rewarding, original, and hilarious." They're even more impressed with the upcoming sequel Bloody Rose, calling it ""The equivalent of a 500-page heavy metal guitar… This is a messy, glorious romp worthy of multiple encores."
It arrives at the end of the month in trade paperback from Orbit, and it being called Book 2 of The Band. Here's the description.
[Click the images for bigger versions.]
A band of fabled mercenaries, led by the infamous Bloody Rose, tour a wild fantasy landscape, battling monsters in arenas in front of thousands of adoring fans, but a secret and dangerous gig ushers them to the frozen north, and the band is never one to waste a shot at glory… even if it means almost certain death.

Live fast, die young.

Tam Hashford is tired of working at her local pub, slinging drinks for world-famous mercenaries and listening to the bards sing of adventure and glory in the world beyond her sleepy hometown.

When the biggest mercenary band of all, led by the infamous Bloody Rose, rolls into town, Tam jumps at the chance to sign on as their bard. It's adventure she wants – and adventure she gets as the crew embark on a quest that will end in one of two ways: glory or death.

It's time to take a walk on the wyld side.
We covered Kings of the Wyld in March of last year here.
I don't have the full wraparound cover for Bloody Rose. But while we wait for that, here's a look at the cover for Kings of the Wyld (click for full-sized version).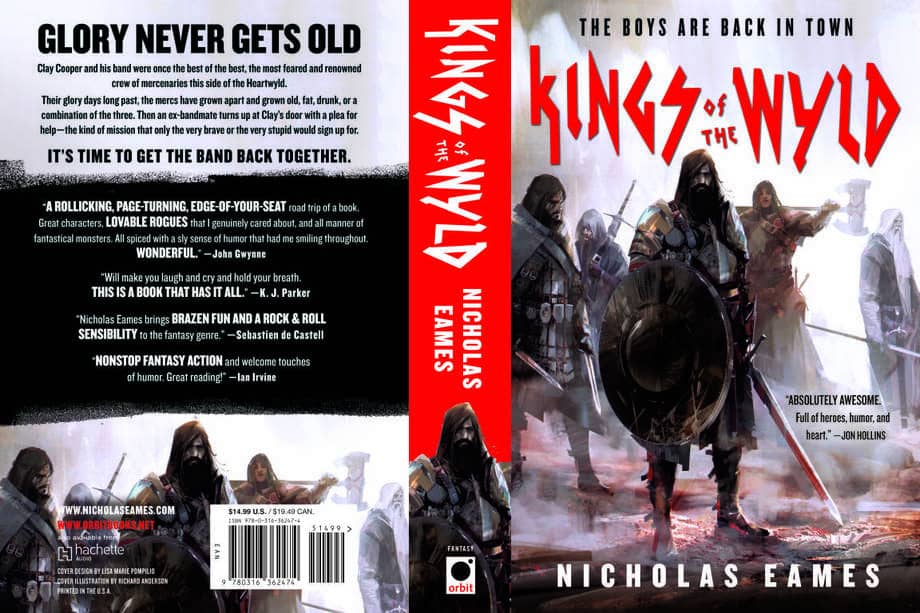 Bloody Rose will be published by Orbit on August 28, 2018. It is 560 pages, priced at $15.99 in trade paperback and $9.99 for the digital version. The cover is by Richard Anderson.
See all of our recent coverage of the best upcoming fantasy here.