Birthday Reviews: Élisabeth Vonarburg's "Cogito"
Birthday Reviews: Élisabeth Vonarburg's "Cogito"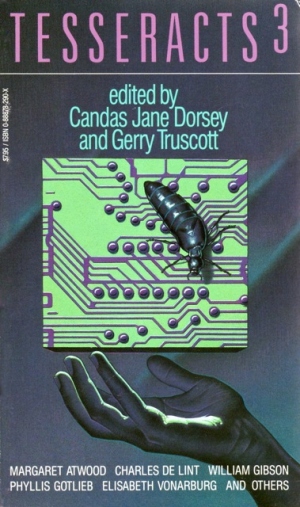 Élisabeth Vonarburg was born on August 5, 1947.
She has twice been nominated for the Philip K. Dick Award and once for the James Tiptree, Jr. Memorial Award. Her greatest recognition came from the Canadian Casper/Aurora Awards, which she has won ten times. Vonarburg won the French language award in 1987 for her story "La Carte du Tendre" ("Readers of the Lost Art"). That same year, she received a second Aurora for her fannish contributions to Solaris. She won three additional short story Auroras for "Cogito" (1990), "Ici, des tigres" (1991), and "La Course de Kathryn" (2004) and five Auroras for Best book for Histoire de la Princesse et du Dragon (1991), Ailleurs et au Japon (1992), Chroniques de Pays des Mères (1993), Les Voyageurs malgré eux (1996), and Reine de Mémoire 4. La Princesse de Vengeance (2007). She won the Prix Rosny-Ainé and the Prix Boreal in 1982 for her novel Le Silence de la Cité. She also won the Boreal for Chroniques de Pays des Mères (1993), Les Rêves de la mer (1997), Reine de Mémoire 1. La Maisson d'oubli (2006) and Reine de Mémoire 4. La Princesse de Vengeance (2007). Prior to 1990, the Aurora Award was known as the Casper Award and in 2011, the Prix Aurora and Prix Boreal combined.
Vonarburg originally published "Cogito" in French in Imagine #46 in December 1988, and it was translated into English with the same title for Tesseracts 3, edited by Candas Jane Dorsey and Gerry Truscott in 1990. The next year, it was published in French in Vonarburg's collection Ailleurs et au Japon. Algis Budrys reprinted the story in English in issue 21 of Tomorrow SF in 1996 and Vonarburg again included the French version in her 2013 collection La Musique du Soleil. The story received the 1990 Aurora Award for Meilleur nouvelle en français (Best Short-Form Work in French).
"Cogito" is a strangely chatty story about a young girl, Nathany, who is growing up on Cybland, a planet settled by humans who left Earth in search of a life made better through cybernetic implants. The narrator begins by describing Nathany's life in her communal school, originally EdBlock 6 until her teachers determined that she was precocious and moved into SpecBlock D. As the story continues, the narrator takes breaks from the action, such as it is, to address the reader directly, providing the background for the world necessary to understand upcoming events.
Through the course of the story, Vonarburg reveals that people on Cybland have all five of their senses removed at a very young age and are implanted by "cybes," which allow them not only to have heightened senses, but also to present themselves in any way they want while they can also switch around the way their senses interact with the world, creating their own personal synesthesia.
Once the background is out of the way, although Vonarburg continues to introduce information through the story, she can get to the meat of "Cogito," in which Nathany learns that her birth father, with whom, like all Cyblanders, Nathany has no contact with, has committed suicide after his body rejected his cybes, leaving him only with the senses of sight and hearing, which would be reimplanted. Nathany becomes curious about what her father must have experienced after rejecting his cybes and begins to systematically recreate, as much as she can, what a natural human would sense, eventually revealing the entire story to be something of a thought experiment.
Reprint translated by Jane Brierly and reviewed in the magazine Tomorrow #21, edited by Algis Budrys, June 1996.
---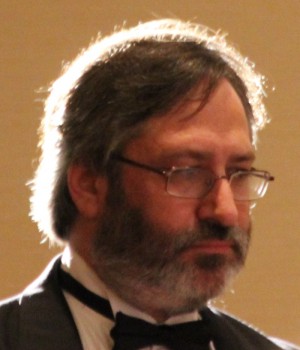 Steven H Silver is a sixteen-time Hugo Award nominee and was the publisher of the Hugo-nominated fanzine Argentus as well as the editor and publisher of ISFiC Press for 8 years. He has also edited books for DAW and NESFA Press. He began publishing short fiction in 2008 and his most recently published story is "Doing Business at Hodputt's Emporium" in Galaxy's Edge. Steven has chaired the first Midwest Construction, Windycon three times, and the SFWA Nebula Conference 6 times, as well as serving as the Event Coordinator for SFWA. He was programming chair for Chicon 2000 and Vice Chair of Chicon 7. He has been the news editor for SF Site since 2002.