Birthday Reviews: Gary Gygax's "At Midnight Blackcat Comes"
Birthday Reviews: Gary Gygax's "At Midnight Blackcat Comes"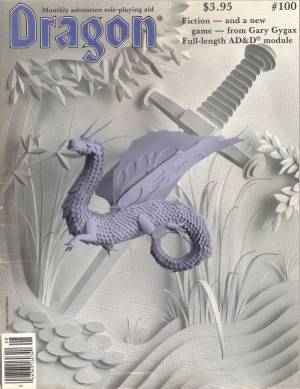 Gary Gygax was born Ernest Gary Gygax on July 28, 1938. He died on March 4, 2008. Although Gygax tried his hand writing fiction, he was best known as one of the creators of Dungeons and Dragons.
Gygax was inducted into the Origins Award Hall of Fame in 1980. In addition to Dungeons and Dragons (and Advanced Dungeons and Dragons) and various modules and accessories, Gygax also had a hand in creating the role playing games Boot Hill, Cyborg Commando, Dangerous Journeys, and Lejendary Adventure.
Gygax wrote "At Moonset Blackcat Comes" as an introduction to the character Gord the Rogue, about whom he had already written the novel Saga of the Old City, which would be published later. The story appeared first in the 100th issue of Dragon, edited by Kim Mohan. Accompanying the story were the rules to the game Dragonchess, described in the story. Although Gygax published a series of five Gord the Rogue novels, plus the short story collection Night Arrant, "At Moonset Blackcat Comes" was not included in the collection and has not been reprinted elsewhere.
The story introduces the main character and his barbarian companion while also trying to give the reader a feel for the way the City of Greyhawk, alluded to in many of Gygax's AD&D articles and modules, is set up. Rather than exploring the city, however, Gygax quickly separates Gord from his companion and the city, setting the action, such as it is, in a sporting house, with Chert the barbarian going off to find female companionship while Gord settles in with Rexfelis to learn to play a chess alternative.
While Gygax is clearly trying to make Gord a likable character who is extremely competent and sure of himself, he comes across as arrogant, placing his own amusement and desires above those, like Chert, with whom he has surrounded himself. Although Gord is on guard against being taken in the game of Dragonchess, it is clear that Rexfelis had been playing Gord throughout the evening with the eventual end of using Gord to rob Rigello the arch-mage, a task Gord readily accepts.
Gord's infiltration of Rigello's home is essentially a killer dungeon routine that the character only really survives through luck, and because he is the main character and needed to. It reads like a description of a role-playing attack, with little application of logic, as arrows narrowly miss Gord and a demon shows up only to be quickly dispatched.
"At Moonset Blackcat Comes" clearly demonstrates that as an author, Gygax was a great game designer. The dialogue is vastly overwritten, and while Gygax explains in an introduction to the story that he hadn't realized the influence of Fritz Leiber's Fafhrd and the Grey Mouser on his own writing, any reader will see that Gygax has adopted Leiber's worst excesses.
Reviewed in its only publication in the magazine Dragon #100, edited by Kim Mohan, August 1985.
---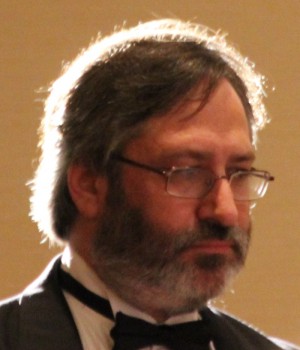 Steven H Silver is a sixteen-time Hugo Award nominee and was the publisher of the Hugo-nominated fanzine Argentus as well as the editor and publisher of ISFiC Press for 8 years. He has also edited books for DAW and NESFA Press. He began publishing short fiction in 2008 and his most recently published story is "Doing Business at Hodputt's Emporium" in Galaxy's Edge. Steven has chaired the first Midwest Construction, Windycon three times, and the SFWA Nebula Conference 6 times, as well as serving as the Event Coordinator for SFWA. He was programming chair for Chicon 2000 and Vice Chair of Chicon 7. He has been the news editor for SF Site since 2002.