Future Treasures: Planetside by Michael Mammay
Future Treasures: Planetside by Michael Mammay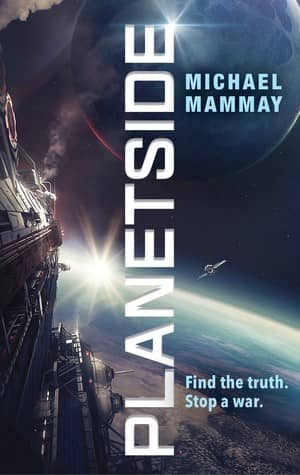 In their list of the most interesting new sci-fi of July, io9 includes Michael Mammay's debut novel Planetside, summing it up by saying,
A semi-retired war hero takes on a mission at the behest of an old friend, searching for an important officer's MIA son. But what seems like a simple search-and-rescue gig soon gets a lot more complicated when he arrives on the far side of the galaxy and discovers a strange, ravaged planet teeming with secrets.
Deep space, battle-ravaged planets, mysterious aliens…  I like what I hear. Marko Kloos (the Frontline series) calls it "a smart and fast-paced blend of mystery and boots-in-the-dirt military SF," and that's not a combo I come across every day. Here's the description.
A seasoned military officer uncovers a deadly conspiracy on a distant, war-torn planet…

War heroes aren't usually called out of semi-retirement and sent to the far reaches of the galaxy for a routine investigation. So when Colonel Carl Butler answers the call from an old and powerful friend, he knows it's something big — and he's not being told the whole story. A high councilor's son has gone MIA out of Cappa Base, the space station orbiting a battle-ravaged planet. The young lieutenant had been wounded and evacuated — but there's no record of him having ever arrived at hospital command.

The colonel quickly finds Cappa Base to be a labyrinth of dead ends and sabotage: the hospital commander stonewalls him, the Special Ops leader won't come off the planet, witnesses go missing, radar data disappears, and that's before he encounters the alien enemy. Butler has no choice but to drop down onto a hostile planet—because someone is using the war zone as a cover. The answers are there — Butler just has to make it back alive…
The book has a stellar, near-perfect 4.8 record at Goodreads (based on 47 ratings), which is not something you see every day, especially for military SF. Check it out.
Planetside will be published by Harper Voyager on July 31, 2018. It is 384 pages, priced at $7.99 in paperback and $6.99 for the digital version. The cover is by Sébastien Hue.