Future Treasures: Adrift by Rob Boffard
Future Treasures: Adrift by Rob Boffard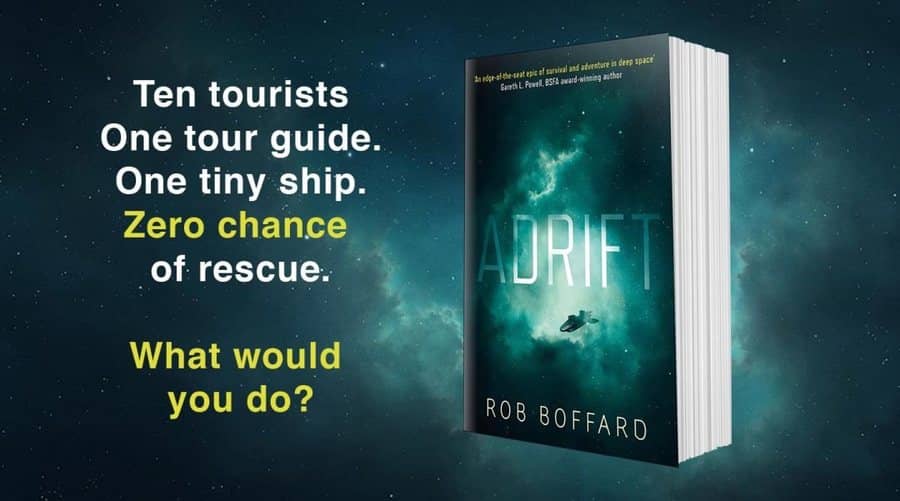 Rob Boffard is the author of the Outer Earth series, which was recently re-packaged in a brick-sized (1,024 pages!) omnibus volume selected by Unbound Worlds as one of the Best Sci-Fi and Fantasy Books of February. His newest novel is Adrift, the tale of a group of tourists caught in a cat-and-mouse game with a deadly alien ship in deep space. It arrives in trade paperback from Orbit next month.
In the far reaches of space, a tour group embarks on what will be the trip of a lifetime – in more ways than one…

At Sigma Station, a remote mining facility and luxury hotel in deep space, a group of tourists boards a small vessel to take in the stunning views of the Horsehead Nebula. But while they're out there, a mysterious ship with devastating advanced technology attacks the station. Their pilot's quick thinking means that the tourists escape with their lives – but as the dust settles, they realise they may be the only survivors…

Adrift in outer space on a vastly under-equipped ship, they've got no experience, no weapons, no contact with civilization. They are way out of their depth, and if they can't figure out how to work together, they're never getting home alive.

Because the ship that destroyed the station is still out there. And it's looking for them…
Adrift will be published by Orbit on June 5, 2018. It is 416 pages, priced at $15.99 in trade paperback and $9.99 for the digital edition. Read the first chapter at the author's website.