Ride Your Own Pet Sea Monster: The Abyss Surrounds Us by Emily Skrutskie
Ride Your Own Pet Sea Monster: The Abyss Surrounds Us by Emily Skrutskie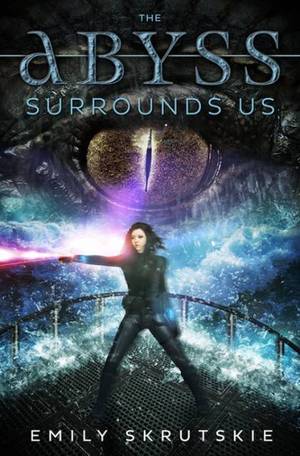 What Anne McCaffrey did for dragons, Emily Skrutskie does for sea monsters.
In The Abyss Surrounds Us, first-person present-tense narration sweeps readers into the world of Cassandra "Cas" Leung. Since Cas is a trainer of Reckoners, genetically engineered giants of the ocean, her perspective gives us the joy of having our own pet sea monster. As Cas, you'll strap on your scuba gear and swim alongside a massive tortoise, running your hands over and between its keratin plates. You'll climb on its back and sit on its head. You'll hitch a ride as it dives. You'll command it in battle, sending it to charge, ravage, and destroy.
At the age of seventeen, Cas has worked her whole life to become a full-fledged Reckoner trainer. The day has finally come for her to go on her first solo mission, accompanying the legendary monster Durga as she protects a cruise ship in the lawless Neo Pacific. Cas's first mistake is assuming that any escort duty in pirate-infested waters is going to be a cakewalk. Her second is deciding to go through with the mission despite signs that Durga's sick. Her third mistake, after pirates have succeeded in killing Durga and overtaking the ship, is failing to take the suicide pill that would guarantee her a swift and painless death.
Defenseless in enemy hands, Cas has a brain full of information the pirates must never discover. But instead of torturing it out of her, the vicious pirate queen has other plans. She has acquired a Reckoner fetus on the verge of hatching. To avoid execution, Cas must birth the thing, raise it, and train it to kill the very people who would come to rescue her.
Once she's got a lethal beast on her side, though, she can turn it on the pirates and escape. Or at least, this is what Cas thinks. Which is her final mistake.
A YA sci fi and fantasy hybrid, The Abyss Surrounds Us will pull you in as inexorably as the tides. While the book is a Junior Library Guild Selection, there's no reason adults can't enjoy it, too. This wild waterslide delights with its original premise, imperfect heroine, and unexpected lesbian romance. The smell of saltwater and carrion will linger long after you've closed the back cover.
Published on February 8, 2016, by Flux, The Abyss Surrounds Us is Skrutskie's debut. The list price for the trade paperback is $11.99, digital versions are available for $7.99. To read an excerpt, direct your browser here. The sequel, The Edge of the Abyss, was released on April 18, 2017.
---
Elizabeth Galewski is the author of The Wish-Granting Jewel, a fantasy novel, and Butterfly Valley, a tale of travel and transformation based on true events. To learn more, please visit her official author's website at www.elizabethgalewski.com.