Future Treasures: Magicians Impossible by Brad Abraham
Future Treasures: Magicians Impossible by Brad Abraham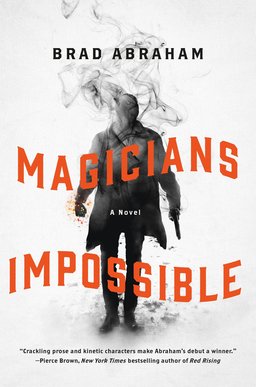 Brad Abraham has written for film (Stonehenge Apocalypse), television (RoboCop: Prime Directive), comics (Mixtape), and genre magazines (Rue Morgue, Starburst). His first novel is Magicians Impossible, which Library Journal says reads like "Harry Potter meets James Bond,… this series launch by a screenwriter features ages-old spy rings of magic-wielding secret agents… a cinematic, fast-paced debut." It arrives in hardcover next week from Thomas Dunne Books.
Twenty-something bartender Jason Bishop's world is shattered when his estranged father commits suicide, but the greater shock comes when he learns his father was a secret agent in the employ of the Invisible Hand; an ancient society of spies wielding magic in a centuries-spanning war. Now the Golden Dawn―the shadowy cabal of witches and warlocks responsible for Daniel Bishop's murder, and the death of Jason's mother years before―have Jason in their sights. His survival will depend on mastering his own dormant magic abilities; provided he makes it through the training.

From New York, to Paris, to worlds between worlds, Jason's journey through the realm of magic will be fraught with peril. But with enemies and allies on both sides of this war, whom can he trust? The Invisible Hand, who've been more of a family than his own family ever was? The Golden Dawn, who may know the secrets behind his mysterious lineage? For Jason Bishop, only one thing is for certain; the magic he has slowly been mastering is telling him not to trust anybody.
Magicians Impossible will be published by Thomas Dunne Books on September 12, 2017. It is 390 pages, priced at $27.99 in hardcover and $14.99 for the digital version. The cover was designed by Ervin Serrano. Read an excerpt here.