Future Treasures: An Alchemy of Masques and Mirrors by Curtis Craddock
Future Treasures: An Alchemy of Masques and Mirrors by Curtis Craddock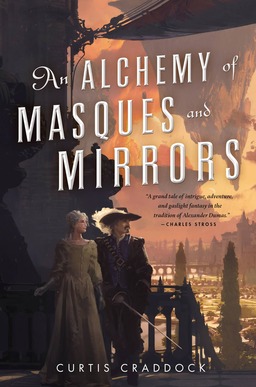 There's plenty of interesting books arriving this month, and one of the imminent new arrivals that has me most intrigued is An Alchemy of Masques and Mirrors, a debut novel from Curtis Craddock featuring Isabelle Des Zephyrs, the Polymath Princess, and her faithful musketeer Jean-Claude.
Charles Stross calls it "A grand tale of intrigue, adventure, and gaslight fantasy in the tradition of Alexander Dumas," and David D. Levine (Arabella of Mars) calls it "A thrilling adventure full of palace intrigue, mysterious ancient mechanisms, and aerial sailing ships!" It is the opening volume in a new trilogy, and arrives in hardcover from Tor in three weeks.
In a world of soaring continents and bottomless skies, where a burgeoning new science lifts skyships into the cloud-strewn heights, and ancient blood-borne sorceries cling to a fading glory, Princess Isabelle des Zephyrs is about to be married to a man she has barely heard of, the second son of a dying king in an empire collapsing into civil war.

Born without the sorcery that is her birthright but with a perspicacious intellect, Isabelle believes her marriage will stave off disastrous conflict and bring her opportunity and influence. But the last two women betrothed to this prince were murdered, and a sorcerer-assassin is bent on making Isabelle the third. Aided and defended by her loyal musketeer, Jean-Claude, Isabelle plunges into a great maze of prophecy, intrigue, and betrayal, where everyone wears masks of glamour and lies. Step by dangerous step, she unravels the lies of her enemies and discovers a truth more perilous than any deception.
An Alchemy of Masques and Mirrors will be published by Tor Books on August 29, 2017. It is 416 pages, priced at $26.99 in hardcover and $12.99 for the digital edition. The cover is by Thom Tenery, Get more details (including a cool map reveal!) at the author's website.
See all of our recent coverage of the best upcoming fantasy here.