Smoke and Mirrors by Jane Lindskold Released as an eBook!
Smoke and Mirrors by Jane Lindskold Released as an eBook!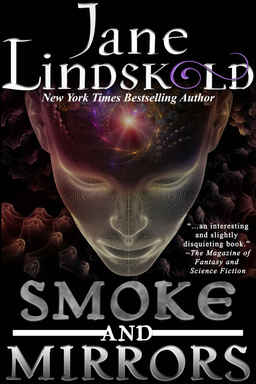 Jane Lindskold is in the process of re-releasing some of her out of print books as ebooks, and the first of these, Smoke and Mirrors is out now. Below I've included the cover copy, but if you want to read more about this re-release, check out Jane's release day post.
How do you fight an enemy who can, literally, change your mind?

From the moment she first senses the whispers of the alien mind within the thoughts of her current client, Smokey – touch telepath, industrial spy, and high-end prostitute – becomes an unwitting player in a conflict that may be as old as humanity.

Determined to protect herself and her young daughter, Smokey soon realizes that the stakes are much, much higher.

After millennia of setting up the field, the aliens may be making their final move. If Smokey is to defeat them, she must win the respect and trust of people who despise her – perhaps at the cost of those she loves the most.

This reprint of the 1996 science fiction novel features an original afterword by the author.
The book is available from Amazon, Barnes and Noble, iBooks, Google Play, and Kobo.
---
Emily Mah is a writer and the owner of E.M. Tippetts Book Designs, a company that provides formatting and cover design services for independent authors and publishers. Her last interview for Black Gate was with German author Emily Bold.